Grandstream mobility solutions allow businesses to be more productive than ever before. Our portfolio of products helps businesses of any size to increase efficiency by mobilizing their network. With the release of a new generation of DECT IP phones and our WP820 cordless Wi-Fi IP phone paired with the GWN Access Points creates a powerful and unified mobile network solution.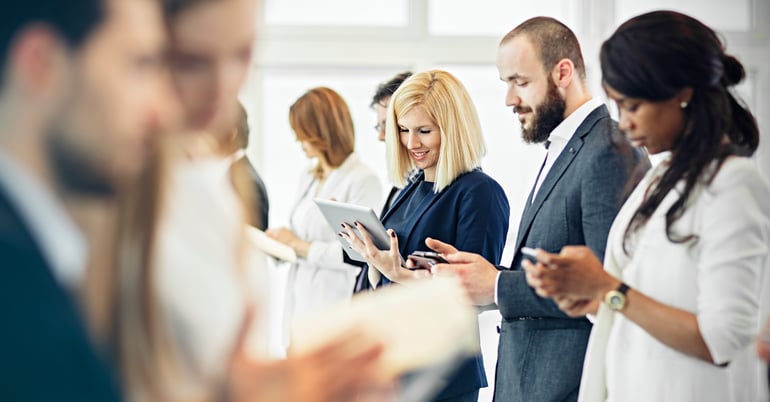 Key Benefits:
Function – Moving towards a mobility solution comes with benefits that improve the functionality of any workplace environment. This includes: the removal of cords, speed of response, push-to-talk feature, ring groups and long-range coverage from both access points and Grandstream's Wi-Fi and DECT cordless phones.
Communication – Whether workers are remote, onsite, or across the country, using a mobile solution improves the communication and connection between the business and its employees. A mobility solution allows workers not to be tied to a desk ensuring that communication can run freely to employee's outside of a normal desktop environment.
Cost savings – Building a mobility solution can be a beneficial and more affordable compared to situations where ethernet cables can be expensive. With Grandstream mobility solutions all you need is a power outlet, making this a cost-effective situation for any business.
Speed of Response – Increase response time in any work environment by utilizing key features in Grandstream's mobility solutions, enabling workers to stay connected while moving throughout the business. With the push-to-talk feature, workers such as those in a logistic industry can provide quick direction while operating or overseeing heavy machinery. Additionally, a Bluetooth headset can be connected to either the WP820 or DECT series allowing a worker in a noisy environment to hear commands in real time. The GWN series allows workers to move throughout an environment with their devices, rather than having to go back to a desktop to access a computer.
Network Management – Thanks to the GWN.Cloud and Grandstream's Device Management System (GDMS) all of Grandstream's mobility solutions can be managed through these platforms to ensure an organized endpoint management and that firmware is always up to date.
Coverage – Grandstream mobility solution endpoints provide long range coverage on the DECT series, Wi-Fi cordless phone, and Wi-Fi access points allowing workers to roam far while staying connected. The DECT series with the DP730, can reach up to 400 meters outdoors and 50 meters indoors with the DP752 base station. The WP820 Wi-Fi Cordless IP Phone can operate as far as the Wi-Fi connection reaches, paired with the GWN7610 Wi-Fi access point users can reach up to 175 meters indoors while the GWN7600LR can reach up to 300 meters outdoors.
Thanks to Grandstream's portfolio of products, building a mobility solution is easier than ever before. Consider how these key benefits can improve the business or space you are overseeing. Keep in mind that that a Grandstream mobility solution can improve the function, communication, cost savings, network management, and coverage to create a powerful and unified mobile network solution.
Check out or mobility solution guide for more information.