Online meetings and webinars are a great way to communicate with colleagues, current, and future clients. They're more engaging than traditional phone calls or back and forth email conversations and can really give your sales and marketing efforts a boost. But, because this communication is live it comes with some risks that cause people to shy away. To help banish video conferencing fears, let's arm you with four tips to address common technological snags.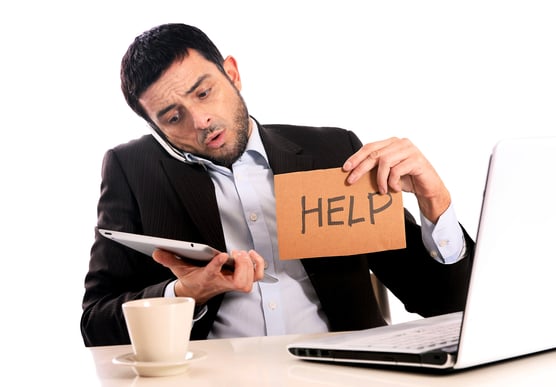 .
1. Network/Bandwidth Issues
A common problem encountered during video conferences or webinars is a poor network connection or a lack of bandwidth. Four indications of this include: freezing video, failing to screen-share, a long delay, or choppy audio. So when this happens, what do you do about it?

First, as a preventative measure, find out what kind of bandwidth the product you're using requires. Next, complete a free speed test using speedtest.com to confirm your upload and download speeds. Other options include confirming with your IT Department that this bandwidth is available, making sure that if you're using a wired connection the Ethernet cable isn't too long.
2. Functionality Issues
Software and hardware come out with updates for a reason, these updates ensure that your product is operating smoothly, secure, and bug free. Sometimes, if you've neglected to update the hardware or software to the most recent version, problems can arise, and the product won't function properly. Check your products against manufacturer resources to ensure that they are updated. Make sure to also keep the computer, mobile phone, and web browsers that you use updated too.
3. Audio Issues
Do you hear an echo? Does everything sound tinny? Make sure you're using a device with noise canceling technology. If you're stuck using computer audio, a headset is recommended, check everything for lose wires and make sure all the connections are tight.
4. User Error
As tough as it can be to admit, sometimes problems occur during live conferences and webinars because of the user's unfamiliarity with the tool. Read through the FAQs of your product and complete a dry-run prior to using it live—make sure you know all the ins and outs of the tool.
If you're holding a webinar or online meeting for the first time being prepared with the content, knowing how to react quickly when things go south, and being comfortable with the tool you're using can all contribute to a successful, stress-less meeting. If the tips above aren't putting your mind at ease check out this blog post for more tips on how to prepare for a flawless meeting, here.