Our case studies show how organizations can benefit from using Grandstream solutions to build customized, reliable and redundant communication solutions. If you're a reseller, our case studies are great tools to show your customers what a Grandstream solution can do for them. If you are an end-user business, these case studies can be helpful when deciding what type of solutions you want to implement based on the business or industry you may be working in. On our case studies page, we offer deployment stories that cover verticals including SMBs, enterprises, hospitals, hotels, schools and more. Most recently we have obtained case studies from Accor Hotels and Nepal's Mountain Glory Resort, both of whom used Grandstream to create seamless hotel operations. We also published a case study from Semillero Detiana, a greenhouse in Spain who utilized our Wi-Fi APs to manage a large green house operation. Let's take a look at these 3 new case studies.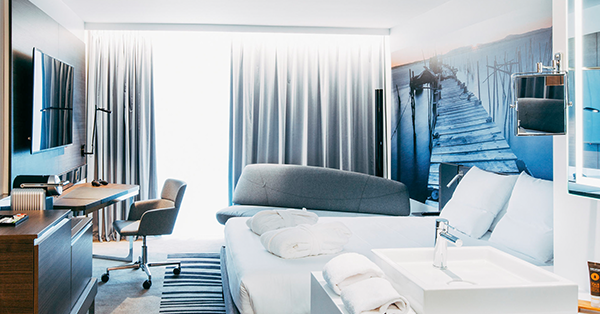 Grandstream Hotel Solutions
Hotels rely heavily upon their communications between reservations, front desk, housekeeping, maintenance, management, and hotel guests. Connecting these users and meeting their unique communication needs is easier than ever with Grandstream. Whether you want to improve existing technology or upgrade to a new unified communications, networking and property management solution that you can rely on, Grandstream can help wherever needed. See how the following hotels used Grandstream solutions to improve your business.
Mountain Glory:
Set on the Seti River in Nepal, Morning Glory Resort needed to update their communication platform with a modern, unified and scalable solution to provide excellent and timely service to guests throughout the resort. Utilizing a certified Grandstream reseller and installer, Morning Glory was easily set up to deploy a Grandstream VoIP solution. To read the whole case study, CLICK HERE.
Accor Hotels:
AccorHotels is a French multinational company that owns, manages and franchises over 30 different brands of hotels, resorts and vacation properties, ranging from luxury to economy. The company was looking to update their outdated legacy systems and discovered they could easily deploy a complete Grandstream unified communication solution that could be integrated with their property management system (PMS). To read the whole case study, CLICK HERE.
A Long-Range WiFi Network
A logistics environment typically consists materials handling, production, packaging, inventory, transportation, and warehousing. Often on the go, this industry needs an easy way to communicate without standard wiring while also building a wireless network that can support automated processes. Grandstream offers an array of solutions to fit the needs of these large facilities, and Semillero Detiana provides a great example.
Semillero Detiana:
Semillero Deitana is a producer of horticultural plants with more than 25 years of experience located in Totana, Spain. The workers use a scanner to manage the greenhouse and were unable to keep up using their old Wi-Fi solution. Grandstream's long-range outdoor Wi-Fi access points were deployed allowing workers to roam throughout the greenhouse without an issue. To read the whole case study, CLICK HERE.
Grandstream case studies can show you how other companies have been able to benefit from using our unified communication and networking solutions. If you're interested in learning more about out solutions, check out our case study page. If you're a reseller interested in submitting a case study of your own to be featured on our website, tell us about your deployment HERE.
Keep an eye out for new case studies coming soon!
Still interested in learning more about Grandstream case studies? View this webinar as we break down some of our case studies and take an in-depth look at the devices that were used and the benefits that they delivered.