In 2020, many office workers have had to adjust to a remote work setting. Now that some are beginning to go back to the office, what will the office look like as we begin to increase capacity in these spaces? How do we keep our employee's safe, separated, and easily connected? With lockdown restrictions easing and workers beginning to head back into the office, employers need to plan how they will set up their office to keep workers safe, healthy and productive. Here are some tips and suggestions for using communications technology to safely and productively return to the office.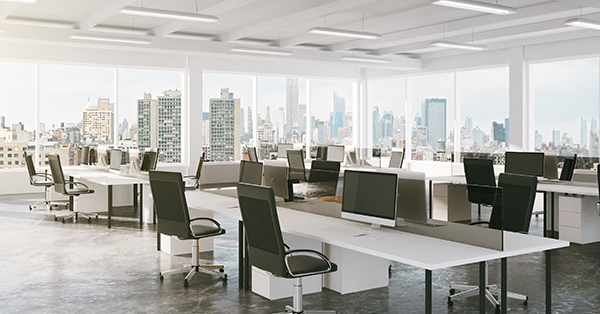 Limiting Travel with Web Meetings & Video Conferencing
All businesses need a way to collaborate internally and expand customer relationships without travelling. By pairing a high-end video conferencing solution with an online meeting platform, businesses can create a virtual collaboration platform that connects physical office spaces with remote users. Offices spread across different geographical locations will especially rely on these types of spaces. Grandstream offers a variety of solutions that will fit the needs of your collaboration space and allow for full customization. Our IPVideoTalk Web Meetings platform offers a cloud solution that allows employees to attend meetings on any device, and can be paired with the GVC Series of Video Conferencing to extend those meetings to a physical office space. Combining the two creates a powerful solution that can be scaled for any organization.
Personal Collaboration Tools
Even with workers in the office, we are not likely to return to big conference room meetings any time soon. Grandstream's GUV series of headsets and webcams provide an easy way for employees to communicate with other workers without having to leave their desk. These Personal Collaboration devices can be paired with any platform or app, including IPVideoTalk, to facilitate quick and easy meetings that save time, increase productivity, and ensure safety. The GUV series offer peace-of-mind by being compatible with most major third-party platforms, apps and softphones as well as computers, laptops and IP Phones (headsets) - providing a powerful yet easy-to-deploy solution that can be used at home as well as in the office.
Touchless Door Entry and Facility Access Control
Managing access to any room or facility while allowing touchless access for employees has never been more important. This can be easily accomplished with an IP facility access solution. Even if a business is currently using a keypad device to control building access, they may want to look for a solution that allows keyless door entry to eliminate the number of surfaces employees are touching. Grandstream's GDS Series of Facility Access Systems includes a built-in RFID chip reader for secure keyless entry, and a built-in microphone and speaker to support intercom functionality with IP phones and other endpoints. If the office door has an automatic door opening system, the GDS can trigger the door to automatically open upon scanning the RFID card allowing for another point of touchless entry. Additionally, an employer will want to monitor who is coming in and out of the building while recording and managing access, which can easily be done with free GDS Manager software. This solution also offers a process to prevent possible COVID outbreaks by providing a tool to track who may have been in the building and at what times.
Video Security
Security cameras team up with facility access solutions to ensure that all areas of an office are secure and protected with video security. They can also help businesses ensure that employees are always practicing safe distancing and using face coverings, raise awareness of high-traffic areas the employer may not be aware of, and provide another tool to prevent and manage a potential outbreak. Grandstream's GSC series of HD SIP Infrared Surveillance Cameras offer an easy-to-deploy and affordable solution to monitor an office and ensure workers are safe, while also identifying high traffic areas. The GSC series can be configured so that when motion is detected in a specified, the device triggers an alarm and the user is notified via SIP call, email and more. As these HD SIP Cameras are setup as SIP extensions, they can communicate with other endpoints, including IP phones to provide a proactive security solution.
Wi-Fi Networks and Devices
Flexibility and mobility within an office space is now critical. In-office employees need to be able to easily work from anywhere within an office space, whether that to be to keep distancing or to find a quiet place to work. The best way to do this is to build a wireless (Wi-Fi) office communication solution using Wi-Fi APs and Wi-Fi endpoints to facilitate all voice, video, data, and internet connections. Not only does this allows employees to work from anywhere, but it eliminates most on-site, manual labor (ethernet cabling) and allows new employees to be added simply by connecting a device to Wi-Fi.
Grandstream provides everything needed to build a wireless office solution, including the GWN series of Wi-Fi APs, GWN.Cloud cloud management platform, GWN Manager software. We also offer a wide-range of Wi-Fi-enabled SIP voice and video endpoints, including the WP series Cordless Wi-Fi Phones, GXV series of Android Video Phones, GRP series Carrier-Grade IP phones (most models), GVC3210 video conferencing solution, and more. These devices also provide a great tool for workers who are following a hybrid remote work/office plan allowing for them to bring their devices to and from work with zero hassle.
While employers and employees navigate the pandemic and re-opening of offices during this time, Grandstream products can help to close the gap and ensure that employees feel safe within the office. Please check your local state and city guidelines for re-opening office plans (for example, those in the US can continue to follow the CDC website for COVID-19 prevention in the workplace). For more information on remote work and collaboration solutions from Grandstream visit our solution page HERE.