Office layouts, management styles, working hours, and other factors are constantly changing as we try to understand how to best empower workers to both collaborate efficiently and excel individually. The technology we use in the workplace is no exception to these changes. A modern communications deployment has to not only enhance how we communicate, but also how we collaborate. Let's take a look into three practices that businesses are adopting to enhance their organizational collaboration.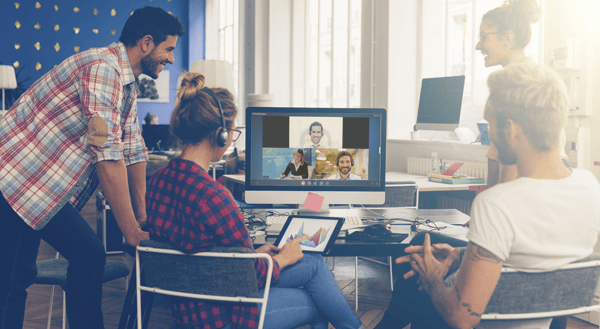 1. Video and Virtual Conferencing
Virtual and video collaboration has become a status-quo in the way organizations work together. These solutions are becoming more attainable for all businesses, large and small, and the list of benefits they provide are growing as well. Huddle rooms and meeting rooms can easily become virtual conferencing spaces where geographically-separated employees, customers, and clients can come together. Video conferencing devices deployed in this fashion can enable a business to collaborate more efficiently both internally and with new markets they could not previously reach. Users can easily join a conference room and work together no matter where they are from a laptop, phone, or conferencing device.
2. Organizational Mobility
We've talked a lot recently about creating immersive WiFi voice and video solutions. This type of UC network is rapidly being deployed by businesses because it allows workers to easily move throughout their facility and collaborate together. Entire workstations and enterprise-level communication endpoints can be mobilized in today's hybrid office layout. This means employees can seamlessly switch between team-format collaboration and individual productivity, and they can access all of this from anywhere through WiFi.
3. Executive Workstation Technology
No one spends more time at their desk than owners, CEOs, managers, and high-level executives. This is simply due to the large amount of work that goes into managing and organizing a business and its internal teams. Being able to efficiently collaborate from the desktop is a top priority because of this, and frequently makes up the bulk of work for an executive. Desktop endpoints that are designed for this scenario have evolved to serve as a complete collaboration hub. Devices such as IP video phones now function as both a communications device and a multimedia video conferencing and efficiency enhancing solution.
Finding the right technology is the biggest step for any company looking to enhance organizational collaboration. Modern unified communication solutions allow business to easily work together from any location, develop ideas together in a convenient virtual space, and seamlessly engage with other teams to drive productivity. Because of this, it's no wonder that unified communications deployments are starting to focus more on unifying collaboration.
-
Interested in learning about Grandstream's collaboration solutions? Click below and register for our upcoming webinar to go over our devices, services, and features that enhance the way people work together.