Get to know our cloud-based management tool
The Grandstream Device Management System (GDMS) empowers our partners with a cloud-based solution to easily manage all of their Grandstream deployments before, during, and after the project. This platform allows you to expand management of your deployments through the cloud. Continue reading to learn how to use the Grandstream Device Management System prior to jumping in to help make your transition to using this game-changing system seamless and easy.

Getting Started – Sites and Devices
The key function that you should be familiar with is importing the devices that you want to mange through the cloud and organizing these into various deployment labels, called 'sites'. Both sites and devices can be imported in bulk by utilizing Excel templates that you can download directly from the platform when you select the 'import' option. By utilizing site, you can separate all of your clients within the Grandstream Device Management System. This enables you to manage all your customers from one source. You can even create 'Child Sites' that are subordinate to 'Parent Sites' for more complex networks. It is important to always create a Site prior to importing and adding devices on the GDMS platform.
Keep in mind, sites don't have to be physical locations. Sites are used to organize your devices in whatever categories you like. It could be a specific subscription type if you offer SIP/ITSP services, a department within a company you're deploying for, or even a specific individual.
Creating Your Configuration Templates
Your deployment site has been created and you've created or imported a list of devices that are now related to that site. The next step is to begin customizing the configuration templates for the devices that you are deploying based on your customer's needs. Once a configuration template is created for a device, it will automatically be pushed to the device once it is brought online and connected to the internet. You also have the option to manually push configuration templates at any point. As we're getting to know the GDMS, it is important to know the different between the 3 configuration template options.
Model- When configuring by model, you first choose the model that you wish to configure and choose to associate it with a specific, several, or all sites. Name the template to help you keep your configuration organized. Once created, you'll be able to completely configure the specified model settings. When the devices within the specified site(s) that share that model type is brought online for the first time, the GDMS will push the configuration template to the devices automatically.
Group- Allowing for bulking similar model types and pushing one configuration template to all of them, the group option presents all the devices that are under a chosen site or sites. From there, you can choose which devices you want to customize a configuration template for and then edit it. When using this configuration option there are specific model categories which have specific devices that can be chosen and edited, such as DP DECT phones, HT ATAs, and GXP/GRP phones. You'll notice as well that a bulk configuration templates may have feature options that aren't available on some of the devices you selected. These feature options will not be pushed to those specific devices since they are unsupported.
CNF Template- Finally, you also have the ability to import premade configuration files for specific devices. Once that specified configuration file is uploaded and related to the device you can push it out through the GDMS portal. The uploaded file must be in XML format and named as the device's MAC address.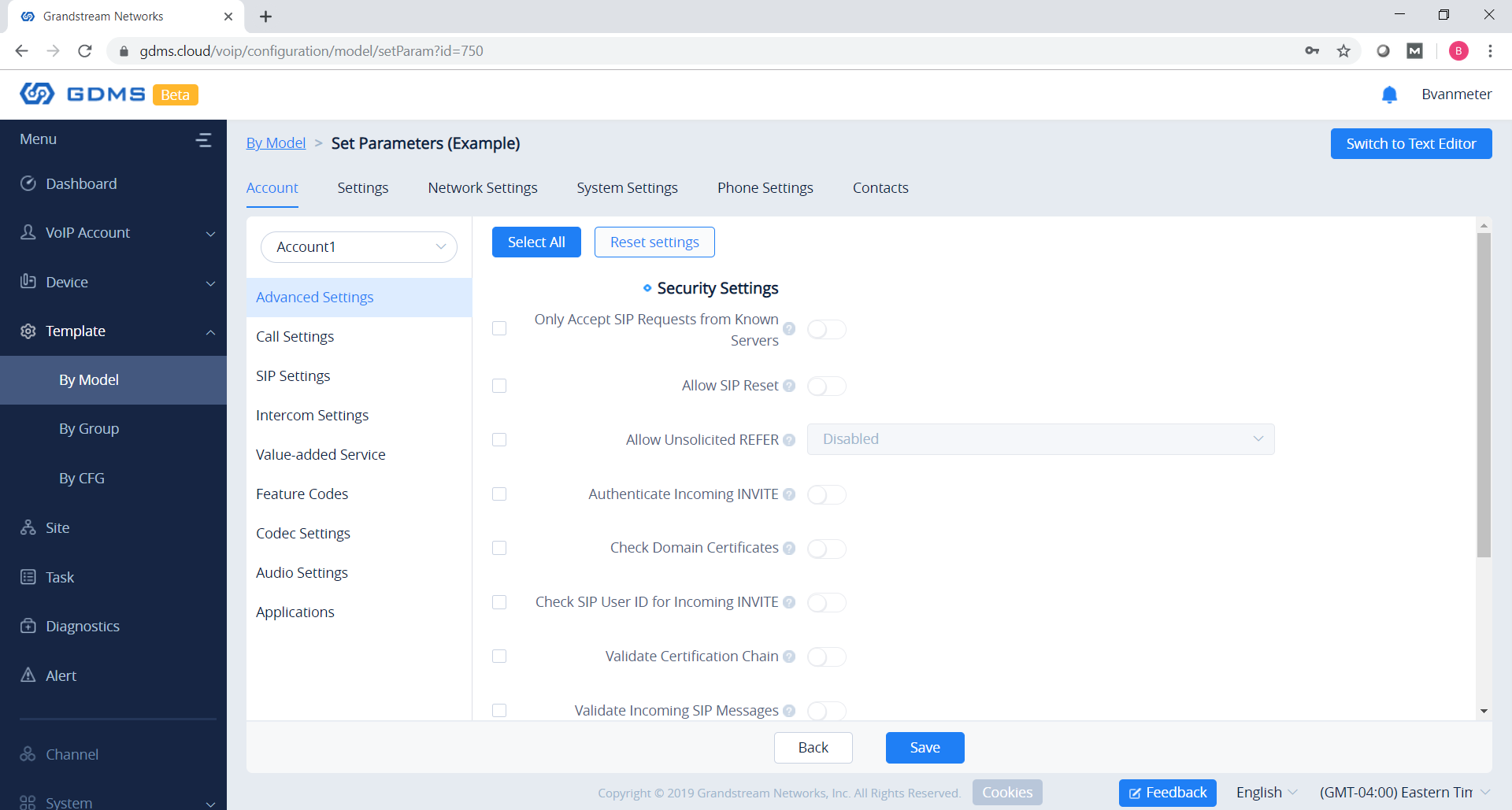 SIP Account Management
Devices, sites, and configurations have all been setup and are ready to be pushed to your devices. The last step is to add your SIP Server and align the SIP Accounts to your devices. First, define the SIP Server that you will be utilizing for your specified devices within a site. After this, you can begin creating SIP Accounts under that SIP Server and assign devices to those accounts. When selecting these devices, first you select the device model, then you may select the relevant MAC address/specific device, and finally you assign the account index to the device. If the chosen account is already configured, the account number will be displayed. Your deployment is now completely configured, customized, and ready.
Tasks, Device Diagnostics, and Alerts
The Grandstream Device Management System goes a lot further than just configuring devices and deployments. It is important to learn how to use the platform's additional tools that empower integrators and ITSPs alike to manage and troubleshoot their deployments and devices like never before.
Tasks- Automated tasks can be programmed within the platform to help automate active maintenance of a network. Meaning less on-site trips and less time focused on upgrading firmware. Device reboots, factory resets, firmware upgrades, and model or group configuration templates can all be pushed through the Tasks panel. These functions can be set to happen immediately, scheduled for later, or even set to repeat based on a variety of time triggers.
Device Diagnostics- Troubleshooting can begin and hopefully be solved in the cloud with the in depth device diagnostics tool. Detailed device information, network captures and syslogs, and conduct traceroutes can all be pulled from here.
Alert Management- Customized alerts can be set to trigger once certain conditions are fulfilled. When using the GDMS, you can set three alert levels: high, medium, and low. You can also set the alerts to be emailed to you or appear in the top right corner of your GDMS platform. No matter what, all alerts will appear in the alert menu. The following are the alerts you can program on the GDMS.
Account Registration Failed
Device Factory Reset
Device Offline
Device Reboot
Task Run Failure
Try out the GDMS.Cloud
Now that you understand how to use the Grandstream Device Management System, head over to GDMS.Cloud and create your own account to begin exploring the platform. The GDMS allows you to configure, manage, and troubleshoot your deployments from the cloud. Meaning your deployments can be truly turn-key and the time you spend traveling to and being at a customer's site can be significantly reduced. More devices are being added regularly.
Watch our one-hour Grandstream Device Management System training webinar.