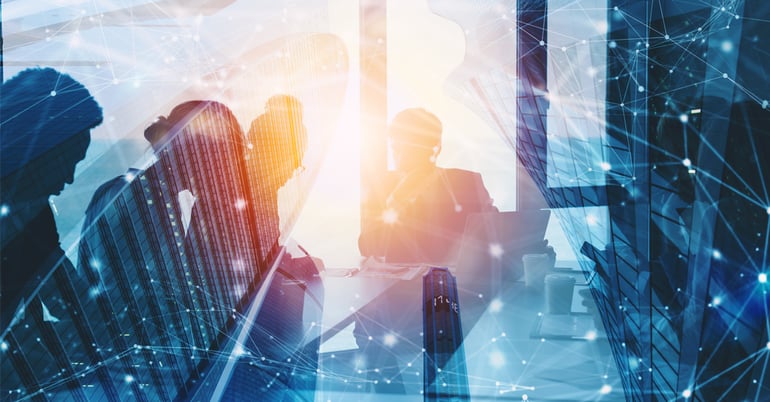 There is no 'official' definition for the term Unified Communications (UC), but most you find will focus on the integration of voice, video, data and mobility into a centralized communication network. While UC still revolves around the integration of these four platforms, the technology that makes up each of those areas, and how we use them, has evolved quite a bit. In the same way that the term "Web 2.0" was coined to differentiate the newer generation of internet technology, maybe it is time to usher in "UC 2.0". UC is no longer just traditional VoIP systems combined with SIP or H.323 video conferencing room systems – it is smart devices, mobile apps, collaboration tools and specialized data management platforms. This blog will highlight the current landscape of UC solutions to show what has changed and preview what may be the next major advancements in the UC ecosystem.
Data
Where we used to look at UC data as call stats, recordings, fax, voicemail and the like, it now means big business data. UC platforms are being integrated with advanced data and management tools including CRM platforms, property management systems, messaging apps and more. Essentially, almost any app or software can now be integrated with a communication system, like our UCM series of IP PBXs, to improve the performance and efficiency of any business through increased data access. Additionally, UC management systems have largely moved to the cloud, allowing businesses to manage, deploy, maintain and expand an entire global communication network centrally. This also provides a smart management and security platform to protect an entire business network and provide better usage data. Our Grandstream Device Management System (GDMS) was designed for this exact purpose.
Data is the area of UC that will grow and develop the most over the next decade. There are surely endless possibilities to what we can achieve by combining communication data with all the other 'big data' available to a business.
Mobility
Mobility is the area of UC that has evolved the most in recent years. It used to mean forwarding calls to mobile devices. Now, it means the ability to access every collaboration tool from anywhere on nearly any device, which has been driven by a generation of mobile apps, open-source technology and mobile workplaces. All-in-one apps offered by UCaaS providers, softphone apps like our Grandstream Wave, messaging apps like Slack, and web conferencing/collaboration services are allowing employees to work from anywhere. Meanwhile, the rise of open-source hardware devices and management tools, like our Asterisk-based UCM series, Android-based video solutions and GDMS, allow UC solutions to easily integrate with third-party mobility tools to extend the office to anywhere in the world.
In the next 2 sections, we'll show you how the advancements of Wi-Fi have allowed businesses to deploy Wi-Fi-based UC networks to support in-office mobility as well.
Video
Where video in UC used to mean expensive, complicated and often proprietary conference room systems, it now it means web collaboration and mobile apps. Modern collaboration services and applications must include mobile apps and web clients in order to allow participation from any location on any device. A room system is nearly worthless now if it doesn't support mobile attendees and offer platform flexibility, which is why our GVC series is built on Android and supports any SIP or H.323 service. This mobility push has taken the traditional video conference room and extended it to a virtual space while also adding more collaboration tools such as content sharing. Also, massive improvements in Wi-Fi technology has helped make installing and managing video solutions even easier as well. An entire office video collaboration solution is now easily ran over Wi-Fi as many room devices, like our GVC3210, include built-in Wi-Fi support.
We are commonly seeing video surveillance and video intercoms being integrated with UC systems as well. SIP video solutions enable 2-way calls between SIP cameras or Door Access Systems and IP voice/video phones to create a proactive security network with real-time alerts, video intercom, facility access control and more. Grandstream IP cameras, facility access devices, IP phones and IP PBXs combine to offer this type of solution
Voice
UC voice telephony has evolved well-beyond wired networks with users tied to desks. It now revolves around flexible mobile and cordless solutions that allow employees to work from any location. The rise of softphone apps like our Grandstream Wave app, and similar desktop clients have extended the desktop phone to any mobile device, computer or laptop. Additionally, now that Wi-Fi technology has become as strong and reliable as wired networks, many office voice deployments are going wireless. Wi-Fi access points (APs) like our GWN series, are now built to prioritize VoIP connections over other Wi-Fi traffic. Many desktop phones, including our GRP, WP and GXV series, include built-in Wi-Fi.
You can now integrate most voice solutions with data and management tools. We've touched on CRMs and property management systems, but other voice-specific examples are billing platforms and call-center management solutions. Our UCM series supports all of those integrations and even includes a built-in call center management tool. Lastly, it's important to note how much better voice quality has become while drastically lowering bandwidth requirements thanks to the availability of numerous low-bandwidth HD voice codecs like OPUS.
What's Next?
Big data Integration – Data is becoming one of the largest industries in the world. The possibilities for what we can achieve by combining communication data with all other types of business data is endless.
Smart Buildings - Facility Management platforms and UC are already starting to team up to efficiently manage HVAC, facility access, lighting and more – in real-time based on real data. This is will soon become commonplace.
Growth of automation and smart UC systems – By integrating UC solutions with big data and facility management, we are only going to increase the amount of data we have access to. The merging of UC with all business platforms is going to continue to make communications technology smarter and more automated, and UC needs to harness that power effectively.


Learn more about Grandstream Unified Communications
If you're looking to build a modern UC solution, Grandstream has everything you need. Click below to download the Grandstream Solutions eBook and learn about the wide-range of UC solutions we offer and how they can work together - and with third party apps and services - to create a powerful UC solution.