We've already started the conversation about security— now, let's focus on loss prevention for businesses. Part of a good risk management strategy is to reduce threats from both outside and inside the organization. This is where video surveillance comes in.
The National Retail Federation trade group conducted a survey that told a compelling story. One of the second highest contributors to missing inventory was employee theft at a shocking 30%. That's a big number and an even a bigger risk for any business. So, how can video surveillance help? Video Surveillance helps put a strict order in place. It establishes an internal authority so to speak through video monitoring. If your employees know they are being watched, they will be less likely to behave dishonestly.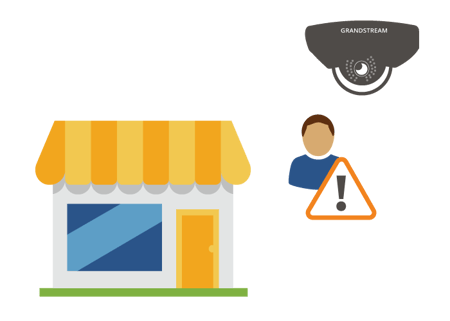 Placing indoor video surveillance cameras near registers, warehouses or anywhere where valuables are stored and/or managed should be part of your risk management strategy. But, just because you implement a video surveillance device, doesn't mean the problem will go away on its own. There should be a strategy that goes along with a surveillance solution as well. For example, put in place personnel that help monitor risk areas. If resources are stretched thin, look for a video surveillance solution that integrates with a NVR (network video recorder), giving you access to 24/7 video feeds. It's also a good idea to find a solution that can send alert notifications in case of a threat. Finally, look for video surveillance that can be managed through a software, giving you more data access and monitoring control.
Other key features to look for include:
Megapixel Progressive Scan CMOS image sensor
High video resolution (for example, 720p)
Advanced multi-streaming rate real-time, Motion JPEG
Support for Motion Detection (can send notifications when security events occur to IP Video Phones, IP Phones, screenshot to email, and more)
Built-in speaker, microphone and SD card slot for local storage
Integration with third party speakers, microphones, intercom systems, sirens, alarms, alarm devices such as door sensors and third party motion sensors, and more
Once you have selected a video surveillance solution (like our GXV3611IR_HD indoor camera), your next step should focus on mapping out a strategy that helps reduce loss prevention. Start by taking back authority- this can be done through the implementation of security devices. Then come up with a monitoring process. It can be either through dedicated personnel, a scheduled audit through an NVR or on-call alert notification system. Your next step and perhaps the most important one, should focus on your employees— your most valuable investment. Educate your staff on how inventory loss effects everyone as a whole by creating a dishonest environment. Reassure them that the security system is not meant to disrupt their work setting but rather provide peace of mind that everyone is following protocol. Lastly, set a standard procedure when offenders are identified and follow through all necessary consequences set forth.
Dealing with employee theft is not easy or pleasant, which is why prevention is key. Once armed with the right plan, resources and equipment, businesses can stay one step ahead with an effective risk management plan that creates an ideal working environment. Keeping your business, investment and valuable employees safe.
---
Sources:
https://nrf.com/resources/retail-library/national-retail-security-survey-2017