Let's talk about security. Today, more and more businesses are taking the necessary steps to secure their spaces with high-tech equipment. As a result, there's a surge of growth in the global video surveillance market. Contributing factors include rising crime rates coupled with the emergence of new, more accessible technology. That's why talking about security today is important.
According to Research and Market, the global video surveillance market is expected to reach $48.6 billion by 2021. Surveillance has come a long way since a simple camera and Closed Circuit Television set up, now you can access your video streams from anywhere. With more advanced HD cameras, enhanced software and mobile apps, and endless integration options, it makes sense that the global video surveillance market is thriving.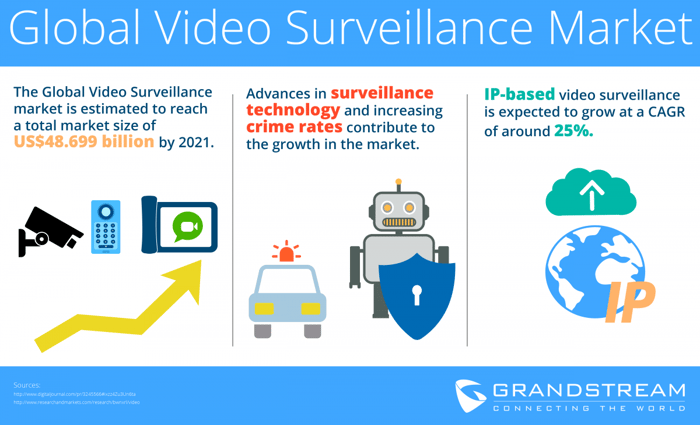 As the market thrives, crime-rates and terrorism concerns continue to grow. Due to this development, businesses are on board with securing their investments as well as their employees, consumers and the public at large. They can do this by implementing a secured and easy-to-manage surveillance solution that provides the peace of mind and protection they need.
Some key features to look for when choosing video surveillance solutions are:
A solution that integrates with your existing communication platform- this will make controlling, tracking and accessing information that much easier.
Video surveillance with HD technology- there is nothing worse than not having a clear picture of what your premises look like; or not being able to identify a threat due to low video quality.
A management software that compliments your video surveillance solution- make sure you have the power to instantly manage and control your hardware through a complimentary software management tool.
A dedicated recording device – many security concerns arise weeks or months after the actual event occurred. If you are not saving and archiving your video surveillance feeds on a network video recorder (NVR) or a PC/server, then you are not getting the most out of your surveillance solutions.
All-weather proof casing that can sustain aggressive conditions- this may seem like a given, but for outdoor surveillance purposes, your hardware should resist anything mother nature throws around. Look for IP-66 certification for weather proof functionality.
In the end, staying one step ahead of threats is a smart move. Thanks to the impressive video surveillance technology available, implementing a secure and powerful solution is easier than ever. Here at Grandstream, we cater to every need, that's why we've developed a fully-manageable video door surveillance system that give users the power they need to stay secured at times that are needed the most. Our door system will integrate very well with your existing IP communication and security solutions to easily protect your premises while managing facility access. To learn more our video surveillance solution, click here.
---
Sources:
http://finance.yahoo.com/news/global-48-69-billion-video-202100666.html
http://www.researchandmarkets.com/research/bwnxrl/video