A few years back, I was fortunate to speak at Ingate's Unified Communications and SIP Trunking Summit in Miami. An interesting discussion developed, making it clear to us that the term PBX has an outdated connotation for many people. The idea that the PBX is simply a voice server requiring extensive wiring couldn't be further from reality. As the discussion progressed about what the modern day PBX can accomplish, many heads in the room began to turn. People began to question whether the industry as a whole should adopt a new term to describe these powerful UC devices? Regardless, it's important to continue educating the channel and end user businesses that the PBX has evolved – and SIP is to thank for that. In the past, terms like legacy, voice, and analog were used to describe the PBX. Today, terms like UC and open source now apply. SIP technology has forever changed the PBX (now known as an IP PBX) to the point where a new introduction is needed.
SIP technology allows many different types of communication technologies to be integrated along with voice – thus evolving the IP PBX into a UC manager (which depicts the UCM acronym in the name of Grandstream's IP PBX series). Where separate networks and complicated installations were the norm for every communication technology – from videoconferencing, voice calls, video surveillance, and data analytics – SIP offers a simple platform that easily converges these communications into one, easy-to-manage solution. SIP could also stand for simple integration process. Thanks to SIP and the rising popularity of the SIP-based PBX, UC has never been more accessible, easy to use and easy to install.

An IP PBX gives any size business the ability to instantly deploy a robust UC network including voice; video calling and videoconferencing; video surveillance monitoring and recording; door cameras and facility access solutions; an intercom network; and more. Using an IP PBX for the backbone and SIP-enabled devices as endpoints, this powerful solution is built using the Internet infrastructure that most businesses have already invested in and use. Through web-based management, the entire solution can be quickly and easily set-up with a few clicks of a mouse. Most IP PBXs, including Grandstream's UCM series IP PBXs, offer hundreds of features and functionalities that are fully customized for any business to access the most robust communication capabilities available in today's marketplace. Using an IP PBX, this entire solution, regardless of where it's located in the world, including all devices, all users, and all technologies, are fully manageable from one central location (even be managed remotely through the web).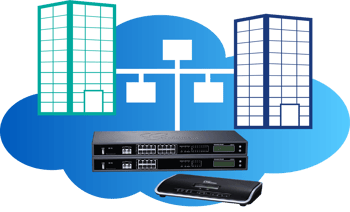 One of the most powerful aspects of an integrated solution comes from the way each endpoint can interact with all other network endpoints. SIP-based devices, from phones to surveillance cameras to the videoconferencing systems to door access cameras, can all communicate together via the IP PBX to add features, additional methods of communication, and stronger security protection to the solution.
SIP UC application examples include:
Employees can make and receive videoconferences while allowing in-office or remote employees to call in and call each other using voice or video phones, and workers can make video calls to employees or clients using the same extension without any configuration
For surveillance,

SIP cameras

are set up as a SIP extension, allowing the cameras to proactively send out instant alerts to voice phones and video phones on the network. In conjunction to phone notification, alerts are also sent to any email address when a security event occurs – all while allowing anyone to call the camera's SIP extension, at any time, to see the live feed of the camera or speak through the camera.
A door access solution can be integrated with the IP PBX to allow door cameras to make SIP voice/video calls to registered phones when a guest appears and allow the door to be opened directly from the phone.
An intercom system can be created – either through the SIP cameras and their audio inputs/outputs or built-in speaker/microphone, or through the SIP telephony system. Existing analog phones or cameras can be used.
Investing in SIP solutions gives businesses the comfort of knowing that their UC network and applications are future-proof, fully scalable, and affordable. IP PBX solutions can also vary in size and price, including upfront purchase price as well as whether or not licensing fees and recurring costs apply.
---
Originally posted in TMCnet, June 8, 2015