The healthcare industry is evolving rapidly due to the COVID-19 global outbreak. The technology used to communicate between doctors and patients ranges from simple telephone calls in place of visits to face-to-face video calls and even robot doctors. There has been a sudden boom in telehealth visits and enhancements in technology within the industry. Video chatting has been one of the safest means of communication between physicians, nurses, and patients in COVID-19 testing facilities and other urgent care centers on the frontlines. It allows healthcare workers to protect themselves from potentially contagious patients during this global pandemic, ultimately slowing the spread of the virus. Remote appointments are also being held for non-urgent visits, by both video calls and regular telephone calls.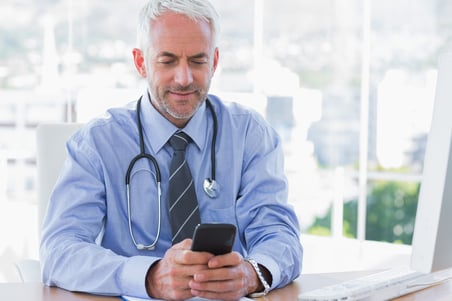 Post-pandemic, it is expected that healthcare facilities will be expanded as a result of under-preparedness from the current state of the world. COVID-19 had pushed medical student graduates directly into the front lines to the regions that were most in need of the healthcare workforce. Even with this surge in the workforce, many facilities did not have communications technology in place to allow doctors to meet with patients, remote patients and families through much other than traditional phone calls or in-person meetings.
Beyond this global emergency, the healthcare industry has established some solid means of remote healthcare options for those who are unable to get to a clinic or regular visits to their primary care physician. Healthcare and doctors will be more accessible to patients like the elderly who are disabled and unable to travel regularly for their routine visits. Remote visits will help to alleviate the spread of viruses through hospitals and doctor's offices, keeping those who are healthy separate from those who are not, much like the "sick waiting area" and "healthy waiting area" in some practices. Currently, many people have been avoiding any and all visits to hospitals or doctor's offices unless absolutely necessary, which is preventing the spread of coronavirus but is also deterring patients who may have other health problems that cannot be remedied at home or self-diagnosed. Telehealth visits have greatly impacted these people who may not necessarily have COVID-19, but still would need advanced medical attention.
Grandstream's video collaboration equipment has been used globally in the healthcare field to help connect doctors and nurses to patients remotely. The GXV series of IP Video Phones are ideal for healthcare practices to quickly check-in with patients, call out for consultations, and connect with the nurses on call. IPVideoTalk can easily be incorporated into the solution as a video conferencing platform for doctors to consult other patients and professionals and even reach out to families. Current patients can still have their face-to-face appointments with their doctors or nurses from the comfort of their own home without needing to set foot in a hospital or medical facility. With Grandstream's video collaboration solutions, doctors and patients can be more connected than ever before, all through remote solutions.