A few weeks ago we announced a major expansion for Grandstream – our entrance into the networking solutions marketplace. Over the coming months we will begin to build out and expand our networking solutions portfolio with a variety of low-end, mid-range and high-end WiFi APs and routers. Our entry into networking market is a major step for Grandstream's efforts in continuing to offer complete business communication solutions.
Our first networking product is a powerful mid-range WiFi Access Point, the GWN7610. The GWN7610 is ideal for mid-range solutions, including home offices, small offices, multiple floor offices, multiple branch offices, retail centers shops, retail malls, warehouses, hotels, convention centers and more. This blog post will break down 3 use case scenarios and why the GWN7610 is ideal for each scenario.

Small Offices, Individual Retail stores, Homes, Restaurants, Coffee Shops
The GWN7610 is a great wireless access point for small offices, home offices and individual commercial locations such as retail stores, restaurants and coffee shops thanks to its ability to share a common SSID. All of these use case scenarios benefit from having one or a few common SSIDs (network names) and access credentials (user name and password) across all GWN7610 access points. For example, the access point in the main office, in the kitchen and in the conference room can all share the same wireless network and access credentials. This allows users to move anywhere within the office and still have access to the same, common network without having to switch networks or connect to a different GWN7610. In this scenario, all access points share the same IP address, the same subnet and the same domain. The GWN7610 will work with any router and the GWN7610 itself can be used to setup and manage up to 50 other GWN7610s to make management quick, easy and centralized.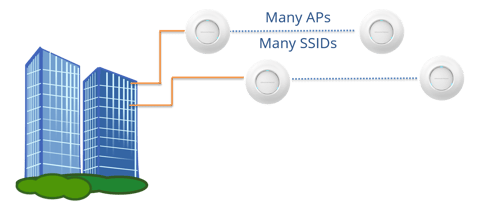 Large and Multiple Floor Buildings
The GWN7610 is great for large buildings including buildings that have multiple floors thanks to their ability to support and offer many different SSIDs. This gives large businesses and large buildings the ability to set up many access points, each with up to 16 SSIDs (16 different networks), including VPN networks. Businesses can setup their office with multiple zones where multiple different networks are available. Create a network for your sales team, a separate network for your customer service team, and a guest network – and make each network available only in the areas you want by configuring them strategically to your access points. With GWN7610 deployments, you can create hundreds of WiFi networks spread across many GWN7610s. Login credentials can be different across all networks. All GWN7610 access points can be controlled by one common router (GWN7610 will work with any router), or you could use any GWN7610 to setup and manage up to 50 other GWN7610s.

Branch Offices (multiple office locations)
The GWN7610 is ideal for branch offices or any business with multiple office locations because of it's ability to support and transmit VPN networks. In this scenario, each set of GWN7610s in each different physical building location is created to have unique subnet and paired to the network offered by the local router. You could then use a router, such as Grandstream's upcoming GWN routers or any other router that supports VPN networks, to bridge the GWN7610s in each location together through a VPN to merge together the two office networks onto one, shared network. VPNs allow businesses to share WiFi and VPN deployments/networks securely across multiple physical locations. This also allows employees to access shared networks and resources through VPNs.
Stay tuned for our next blog post where we will talk about WiFi installation and management. We'll show you what other manufacturers offer in terms of installation and management and why our GWN WiFi APs make it easier than ever before.