Building security is like insurance, it is something you hope to never have to rely on but there may come a day where you will be thankful to have deployed security measures. Whether it is the result of property damage, a break in, employee malice, or other building threat, knowing that the technology is in place to protect building assets will bring comfort to any business owner. In this blog we will cover Grandstream's facility management products and cover the important features that Grandstream products are equipped with to deliver a powerful security solution that can be customized to any business's needs.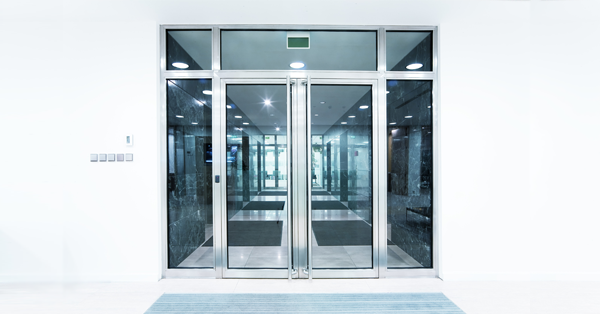 HD SIP Infrared Surveillance Cameras
Grandstream's GSC3600 series of IP Security Cameras include top-notch security features to ensure users get the most out of their surveillance cameras. With weatherproof technology they can be placed anywhere on a building or outdoor space without fear of interference. The series supports motion detection and includes smart infrared technology for white balance and exposure to monitor activity at night or in dark enclosed spaces. These cameras offer live video and audio streaming with other SIP endpoints, and provides alert notifications through voice or video calls and can be configured to include email screenshots so that users are aware of activity at any time of the day or night. White listing is a security feature that allows a GSC camera to be associated with a specific phone number that gives limited control to select trusted users/phone numbers. An example of this feature would be used in a scenario where a front desk attendant need to monitor incoming visitors. The devices in the GSC3600 series can be configured so that when a doorbell is pressed the front desk is called and the user can decide whether to open the door or not. Additionally, the security cameras can be configured to an alarm schedule and perform alarm actions. For example, when motion is detected in a specified area of the facility the device can trigger an alarm and the user can configure action settings to have the alarm sent to a specific SIP phone and automatically send an email with a snapshot of the motion detected.
Facility Access Systems
Door entry is one of the easier systems to implement when building a secure facility management solution. Grandstream's GDS Series of Facility Access Systems tracks and manages access to any physical building and provides a dedicated audio and/or video intercom. The GDS3710 offers a 180-degree video viewing angle for wall-to-wall coverage while the GDS3705 features dual microphones and HD loudspeaker with advanced AEC to offer intercom functionality. Both devices in the series have a built-in RFID chip reader and keypad for secured keyless entry, or by using an RFID Card or RFID Key Fob. By using its alarm-in and alarm-out ports, the GDS3710 can be integrated with other Grandstream security devices or existing security devices. When used with the GDS Manager, a free software available for the series, provides a complete office and human resources management platform used to track employee check-in and checkout times, view video and data from multiple GDS devices, and more. When paired with the Granstream Wave Softphone App, a user with can view live video feeds (GDS3710), have a conversation with a visitor, and let them in by tapping a button on the phones screen.
Control Stations
The GSC3750 HD Intercom and Facility Control Station provides a dedicated and easy-to-use device to manage door access, video surveillance cameras, intercoms, building communications and more. When combined with other video streaming devices including Grandstream's GSC3600 series of Surveillance Cameras and GDS3710 HD IP Video Door System, the GSC3570 supports incoming video feeds with resolution up to 720p HD from door cameras allowing a centralized unit to monitor areas at high-security risk. The arming mode enables the control station to be connected to alarm inputs and each detector can be linked to a zone with different actions. Zone types can be set depending on the alarm input device used such as infrared, smoke, and gas to monitor and prevent potential safety hazards like gas leaks, fires, and intruders. The GSC3570 can be configured with alarm and SOS calling to immediately trigger calls to certain numbers depending on the arming mode granting swift action in the event of a facility emergency. This device could easily be used by a reception desk or security team to manage and monitor facility security.
Intercoms and Paging
The GSC3500 Series offers a high-quality intercom and paging functionality, that allows businesses to build powerful SIP intercom and paging solutions that expand communication and add security. Devices in the series offer a SIP Intercom speaker/microphone and a 1-way public address speaker. Without an intercom solution the use of phone's or email to send out emergency announcements can be too late. To ensure that your facility is as secure as possible, an intercom/speaker solution is the easiest way to deliver emergency announcements. In the event of a dangerous intruder, fire, or other situation Grandstream's SIP intercom/speaker will provide a reliable source of instant communication to all workers. The multi-cast paging feature is ideal for any setting where multiple intercoms/ speakers may be deployed. Priority groups can be configured, and users can assign specified devices such as IP phones to these groups ensuring emergency pages devices have priority over other paging sources. The GSC3510 includes a two-pin peripheral port that can be set up to connect to an emergency button which is critical for any warehouse, hospital, or other high-risk security setting to get immediate help.
By deploying the right products, building a secure facility management solution can put a business owner's mind at ease, along with those who are working within the building. Though it requires initial investment, a security solution could save on money, stress, and trouble down the road. If cost is an issue, a user could start small with one or two products and expand over time as Grandstream's products are built to be fully integrated with one another to provide a complete facility management and security solution.
For a list of all products in Grandstream's portfolio of facility management solutions visit the solution page HERE. Interested in learning more about purchasing the products mentioned in this blog? Contact us HERE and a sales representative will get in touch with you.