We are getting close to the official release of our first cordless WiFi IP Phone, the WP820 (for those who have has been following the development of this model and seen it called the WP800, we decided to rename it the WP820). The feedback we have gotten from Beta testers, channel partners service providers, major platform providers and potential end-users points to this product instantly becoming one of our best-selling models. Our Beta Club had more applicants to test this product than any product we have ever put through a beta test. Also, as you may have seen me talking about recently in a blog and on a Telecom Reseller Podcast, WiFi voice is poised to become a mainstream deployment model because of its cost, management and environmental benefits.
To get some feedback on our upcoming WP820, I recently sat down with Mike Magers a prominent Grandstream Reseller and Systems Engineer with VoiceConnex, a technology integrator in Missouri, USA. Not only does Mike bring years of experience within the telecom and security industry, but he is a Beta tester of the WP820.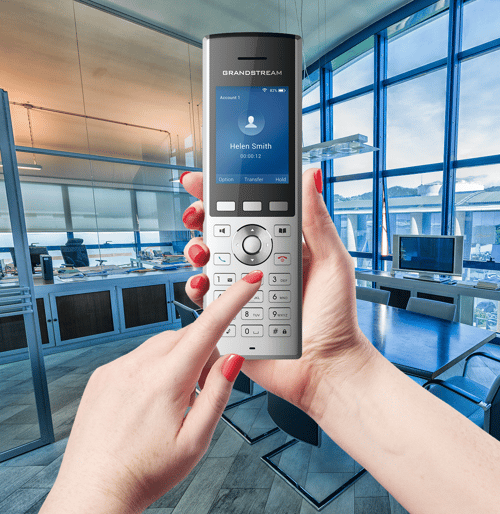 Phil Bowers: We are getting ready to officially launch our first ever WiFi cordless IP Phone, the WP820. As you were one of our Beta testers for this product, what are your overall thoughts and impressions?
Mike Magers: I am extremely impressed by the product. The fact that the roaming aspect of the phone works so well is remarkable compared to some of the other phones I have had experience with. I like the size of the phone as it's not too big nor too small. Also, the fact that it works with multicast paging works into VoiceConnex' overall push for safety and securitu solutions. The customers I have showed the phone to have been unanimously impressed.
PB: What stands out to you about the device, for example, outstanding features, competitive differentiators, or anything similar)?
MM: The color display, Bluetooth integration (for headsets, etc.), the analog headset jack, dual band support, great range and good battery (both in standby and use) stand out to me. The multicast paging and push-to-talk features also put the phone in a major marketable position. For VoiceConnex, the fact that we can integrate the WP820 with the GDS3710 and GDS3705 is a game changer. That allows us to equip school personnel with the WP820 so they can answer the door and control building access, which is something that our school customers are going to appreciate.
PB: In your opinion, how does it stack up against other WiFi IP phone you have used?
MM: We have used and sold a couple of other WIFI phones. The ability to easily roam between APs with no loss of connection or dropping of conversation is the biggest advantage that I see. The size of the phone, the size of the keypad (with easy-to-use keys and softkeys), longer battery life, the size of display, and it being in color are all major advantages as well. Also, the other WiFi phones we have used did not have access to multicast paging or push-to-talk, which I see as a huge advantage.
PB: How do you plan to use and deploy this within your customer base?
MM: We are going to use this phone in two of our main vertical markets, manufacturing and K-12 school. Because both of these markets have extremely robust WIFI networks already makes the introduction of the WP820 extremely easy. We have been deploying GDS series units to both of these vertical markets and the integration of the WP820 will offer additional features that other products cannot touch. It goes along with our school safety and security push, enabling mobile personnel to access to paging, notifications and facility access systems throughout the school buildings. The WP820 will also allow them to have extensions registered to both fixed deskphones as well as a cordless phone that can work throughout the entire school. All of this offers school security and administration the flexibility they need to be in any location with the controls they need to access and warn/notify students and teachers.
PB: What are your thoughts about WiFi voice in general? Do you see it becoming a mainstream network deployment option?
MM: In many environments the wireless network is actually becoming more robust than the wired network. We see this regularly with our K12 customers who invest great sums into their WIFI infrastructure to support one-to-one student learning environments. Also, many workstations are becoming mobile and connect to networks wireless, further cementing WiFi voice as a mainstream option. I am excited to see that the GXP1760W has been introduced and look forward to other forthcoming WiFi phones from Grandstream.
PB: Thanks Mike. I appreciate your time and feedback, as always. Funny that you mention other WiFi IP Phones from Grandstream - the reason we renamed the WP800 as the WP820 was because we are developing an entire portfolio of cordless WiFi IP phones with more basic and more advanced models in comparison to the WP820. We are also in the process of developing some additional WiFi-enabled desktop IP Phones. We are fully invested in WiFi voice and are excited to continue to expand our WiFi-enabled IP phones over the coming months and years.