Over the last couple of months I have been having a lot of conversations about WiFi voice. WiFi voice is not only a big current focus for us, but it has also become a notable buzzword within the VoIP and UC space. Many businesses, especially enterprises, have begun to build truly wireless offices complete with entirely wireless communication networks. The topic even came up in a Podcast I did a few weeks ago with Telecom Reseller. Whatever you may think about WiFi voice, it is poised to take over the market sooner than later.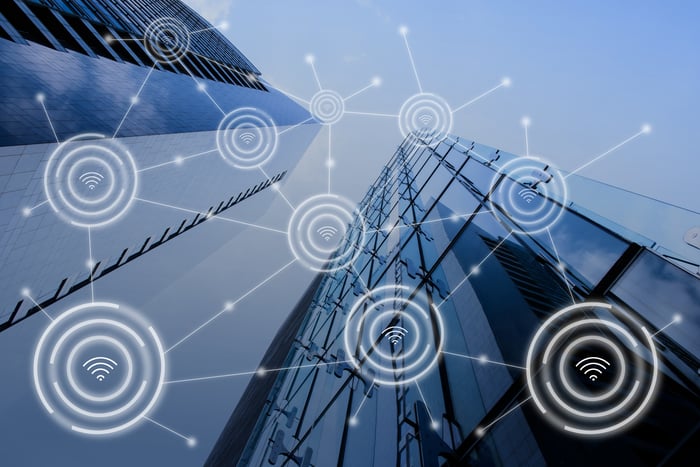 Here at Grandstream, we are on the forefront of supporting this movement through our many WiFi voice solutions. This includes our upcoming cordless WiFi phone, our GXP1760W WiFi Desktop IP phone (which just won the ITSPA's Best VoIP Device Award), our WiFi-capable GXV series of IP Video Phones, as well as our GAC2500 Conference Phone. What's more, we also offer a full portfolio of WiFi APs.
As with any new trend, there is some initial hesitancy around WiFi voice. The common belief is that the quality of voice calls will be poor, as will the quality of other WiFi connections because they are all mixed together on the same network coming from the same APs. While historically this may have been true, it is not anymore. There are numerous ways that WiFi AP manufacturers like us can quell this trepidation and ensure that any WiFi voice network offers top-of-the-line quality. This blog will explain three features built in to leading WiFi APs, including our GWN series, which allow WiFi voice networks to offer state-of-the-art voice quality.
To offer crystal-clear voice quality through WiFi and to ensure these connections are not effected by other WiFi traffic, we built our GWN series of WiFi APs to be able to prioritize voice traffic over other traffic. We also built them to play an active role in facilitating seamless transition from one AP to another while roaming. Let's dig into the details.
Prioritize Voice Packets with QoS
If you are building a WiFi voice network, chances are you want your voice network to take priority over other WiFi connections. Users making VoIP calls should have network priority over someone downloading a file. We have implemented Quality of Service (QoS) standards on our GWN series of WiFi APs to allow you to do just that. Users can prioritize specific Internet traffic so whenever their network is at its maximum, voice users are ensured a high-quality, stable experience. Through QoS, our GWN series of APs can be set to prioritize voice, video, best effort (applications) or background (passive network use) traffic. This can be enabled within the web UI of our APs.
WiFi Voice Enterprise
Roaming from one AP to another, no matter what you are using WiFi for, is a client decision. The client you are using, whether it be a WiFi IP phone, mobile device or laptop, is the device that ultimately makes the decision as to which AP to connect to. However, our APs offer a feature called WiFi Voice Enterprise which allows them to play an active role in the roaming decision to ensure a seamless, interruption-free voice experience.
WiFi Voice Enterprise, trademarked by the Wi-Fi Alliance, is included on our GWN series of APs and utilizes three different protocols (802.11k, 802.11r and 802.11v) to ensure a seamless transition from one AP to the next while on a voice network, something many APs simply do not do. The use of these protocols allows our APs to speed up the clients search for nearby APs by providing the client with a list of nearby APs and their information, WiFI Voice Enterprise also shortens the authentication period when roaming to a new AP.
PMK Caching and OKC
These are two additional features offered by our GWN series of WiFi APs to create a seamless roaming experience and facilitate instant handoff from one AP to the next. When using 802.1x authentication on a WiFi network, PMK (Pairwise Master Key) caching eliminates the need to re-verify and exchange authentication when roaming to a new AP in order to decrease authentication time during roaming. If OKC (Opportunistic Key Caching) is also enabled, a copy of the PMK information will be extended to all APs on the network to completely eliminate the authentication process while roaming, even if the client has not been connected to an AP previously.
Build a WiFi Voice Solution
Businesses around the world are beginning to hop on the WiFi Voice trend. It allows them to build truly wireless offices that drastically cut back on setup and installation costs, streamlines on-going management and is environmentally friendly. Maybe best yet, in an era where employees are rarely tied to one physical desk location, WiFi voice networks allow employees to make and receive high-quality calls from anywhere within range of a WiFi AP. The three features we covered in this blog allow you to easily sculpt a powerful WiFi voice network using our GWN series that prioritizes voice traffic and actively facilitates roaming. Nearly every WiFi voice endpoint you are looking to use will support at least one of the two roaming features we offer.
If you are looking to build a WiFi voice solution, let us partner with you. We are one of the few manufacturers in the world that offers everything you will need to build a WiFi voice network, including WiFi APs optimized to support WiFi voice networks, WiFi desktop IP phones (GXP1760W and our GXV series of IP Video Phones for Android™), WiFi Audio Conferencing devices, IP PBXs to customize your voice network, and our upcoming cordless WiFi IP phone.
Contact us to find out more.