UCM RemoteConnect Overview
UCM RemoteConnect, a part of the UCM6300 Ecosystem, is a companion cloud service to the UCM6300 series IP PBXs. UCM RemoteConnect allows organizations to build a secure, easy-to-manage communications and collaboration solution for remote workers and devices. Network administrators can configure, edit, and manage every aspect of their UCM6300 device from the cloud through UCM RemoteConnect. The service provides automatic NAT firewall traversal that securely connects remote users to the IP PBX. The cloud service provides reliability by running on Amazon Web Services (AWS) while offering zero-touch configuration and IT-friendly management. As it is integrated with the Grandstream Device Management System, every business can control and customize their network in one central location. UCM RemoteConnect allows for users to just connect their devices to the internet to be linked with their organization, providing a hassle-free experience.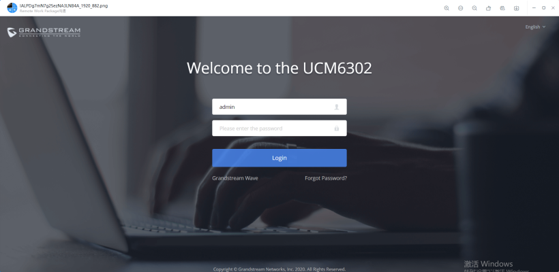 Getting Started and Feature Overview
Once you have purchased your UCM6300 IP PBX device, you will be able to set it up quickly through UCM RemoteConnect. To access the service, you must first visit the GDMS platform to access the UCM RemoteConnect service plan information. The UCM RemoteConnect plan offers the following features:
UCM6300 IP PBX Management
Automated NAT Traversal
Compatibility with Grandstream Wave & Wave Web App
Managing a UCM6300 IP PBX with UCM RemoteConnect
After you have added your new UCM6300 device to GDMS, the current open beta plan for UCM RemoteConnect will be assigned to the IP PBX. When the UCM is added to GDMS, all of the SIP extensions will be synced automatically for users to manage. All of the UCM features can be modified and managed, all from the cloud, allowing IT teams or installers to customize every aspect of their UCM6300 IP PBX network. UCM RemoteConnect also allows users to view call detail reports as well as remote call statistics and logs them into the web GUI. Using GDMS, SIP peer trunks can be configured between two UCM6300 IP PBXs.
Automated NAT Traversal and Connecting Remote IP Phones
When the UCM is added on GDMS, automated NAT traversal, SIP extension sync-up, and basic statistics are available without requiring manual configuration. UCM RemoteConnect allows users to form secure remote connections to the UCM. The media NAT traversal provides an automated NAT traversal service for users to make calls and attend meetings from an external network without NAT issues. Connecting remote IP phones can be completed entirely through the cloud using GDMS. Once the endpoints are added to GDMS, they can then be linked with the UCM IP PBX.
UCM RemoteConnect and Grandstream Wave App/Web
In the Grandstream Wave web app, the user can host and schedule meetings, access and manage contacts, make and transfer calls, and chat during calls. Wave, on the other hand, is also a softphone app for Android and iOS devices that can be used with the UCM6300 IP PBX. Once you download and install Wave, you can simply input the meeting link and join from there or log in through the server to host and join meetings.
You can also use UCM RemoteConnect for calls and meetings from your external network through the unique URL assigned to your account, using the GS Wave Web App. Users can log into the GS Wave web app using the SIP extension number and SIP registration password.
For a more, in-depth look at UCM RemoteConnect and the UCM6300 Ecosystem, check out our technical webinar recording here!