By now, we've become so dependent on our mobile phones, it's hard to image a time before they existed. In a world where there is an app for everything, it's no surprise video conferencing is also attainable on mobile devices. This is due to mobility becoming an increasing trend in different business environments. Many front-line roles require more tools that provide flexibility and instant communication, putting mobile video conferencing on their must-have items.
Many organizations have already adopted video conferencing in their everyday business communications, but it's not until recently that mobile video conferencing became a game-changer in improving processes in the workplace. Today, 77% of regular video conferencing users join meetings from laptops and/or computers and 30% from mobile devices, but that number may soon change. According to a survey conducted by Lifesize, 75% of organizations plan on utilizing mobile video conferencing at work. These tools are crucial to improve processes and communication, as more field-jobs require flexibility, collaboration, and the exchange of real-time information with their peers.
For example, roles like In-Field Service and Support benefit from having the flexibility to join online meetings from their mobile devices. They can give live instructions on how to perform a task, ask and answer questions while in the field and perform live-demonstrations without restrictions.
Another role that requires instant communication on the go is Sales— specifically because these jobs demand a lot of travel. Whether employees are in between trips at the airport, on the road traveling to a client's site, multi-tasking in between meetings or just trying to fit in face-time with their clients — mobile video conferencing helps nurture and engage customer relations regardless of a hectic schedule.
Video conferencing features on mobile devices like screen, audio and video sharing help front-line workers improve their work processes. Hands-on training roles require video collaboration features while onsite, including those in the hospitality and retail industries. Features like audio and video sharing, provide ears and eyes to trainees learning information virtually. Another great feature is being able to access live network information. This is useful for roles who require consistent live meetings in the field. Having their network information, pocket loss and other statistics on hand gives them the visibility they need to manage their meeting and anticipate network interruptions.
If your role puts you onsite or on the road most the time, video conferencing from mobile devices like tables and smartphones are a great tool to increase collaboration between remote teams as well as facilitate work process. To learn how you can bring mobility to the workplace, head over to IPVideotalk today.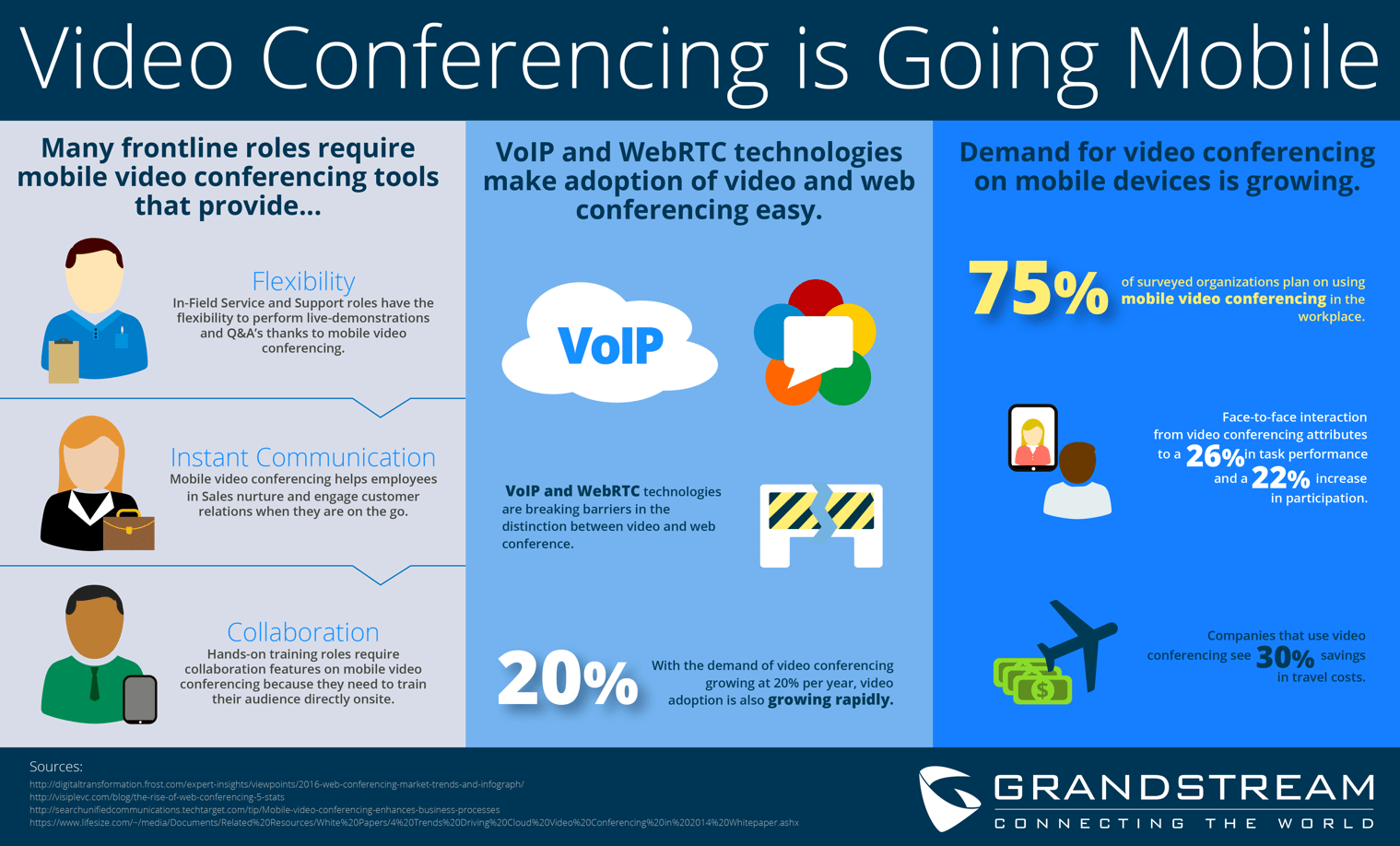 ---
Sources:
http://searchunifiedcommunications.techtarget.com/tip/Mobile-video-conferencing-enhances-business-processes
https://www.lifesize.com/~/media/Documents/Related%20Resources/White%20Papers/4%20Trends%20Driving%20Cloud%20Video%20Conferencing%20in%202014%20Whitepaper.ashx