I thought now would be a good time to talk about setting up the perfect IP solution using Grandstream products. This is a great time to upgrade your business communication hub as the new year is approaching and so are new business strategies! Start off 2017 with a powerful and productive IP network and give your communications a boost.
To begin, let's start with the basics: setting up an integrated network.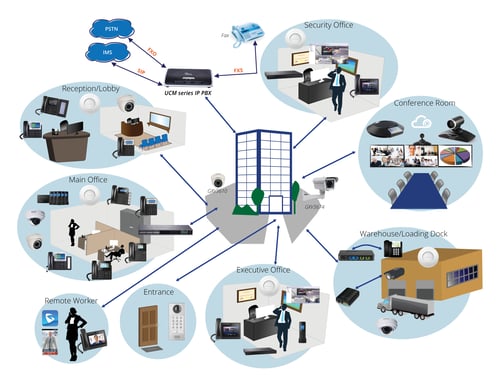 IP PBX system- to set up one powerful integrated network, you will need a UCM system that can unify your communications. Grandstream's latest IP PBX series, the UCM6200 is ideal because it does not require any licensing fees, making it a great solution for businesses of any size, including SMBs. The UCM series can create and unify multiple communication technologies on the same network with all devices registered simply as extensions, including video conferencing/calling, audio conferencing, cordless phones, surveillance, fax and more. It offers businesses a comprehensive list of enterprise-grade voice, video, data and mobility features that are easy-to-use and aimed at increasing productivity and security.
Once you have your IP PBX system set up, the next step is adding IP phones to your network. Grandstream provides different end-points to fulfill different users' needs.
IP Phones- choosing the right phone to your network can sometimes be overwhelming. With so many choices out in the market, how do you know which ones suit your needs? Grandstream makes choosing the perfect end-points fast and easy. We have solutions ranging from basic, mid-range and higher-end options. Also added to the list is our DECT cordless solution as well as video phones with multi-platform features. In a call center for example, you'll want to incorporate a high-call volume phone like the GXP2170 with our extension module to easily manage many lines from a single end point. For a smaller office where there might not be the same call volume, our GXP1615 with integrated PoE can deliver the effective IP technology at an economic cost. Whatever the need may be, Grandstream has you covered.
In case you don't have the resources to implement IP phones into your network, our Analog Telephone Adapters (ATA) are here to convert outdated analog technology into VoIP.
ATAs- we understand that upgrading to a new phone system can be expensive, so our ATAs are designed to make the task painless (and inexpensive!). Choose between our newest HT800 series with either 2 or 4 FX ports, depending on the size of the network you wish to convert. Upgrade to powerful VoIP technology and achieve exceptional voice quality, strong security protection, automated provisioning options and overall improve your telephony system's performance.
Last, but not least, you can also add a conferencing system to you host meetings and enhance collaboration.
HD Conferencing system- hosting virtual meetings is a key component to effective communication. Grandstream offers a feature-rich conferencing system (every GVC3200 series includes a GAC2500) with unprecedented flexibility and support for multiple popular protocols that gives you the power to do more. As if that wasn't enough, our Android-based audio conferencing device will redefine the choices and mobility available in any workspace. When combined with Grandstream's web conferencing service, IPVideoTalk, you get one complete and robust video conferencing solution sure to make your virtual meetings dynamic and collaborative.
So, start the New Year off on the right foot. Enhance your communication environment and get more done with Grandstream's powerful IP solutions made for businesses like yours.