The fall season in New England is commonly a time for reflection, the change of season seems to inspire this need to ponder and prepare for the coming year. Considering all of Grandstream's accomplishments over the last year I thought this blog post would be a good time to take a look back and reflect on the past year.
The company's first product was introduced in 2003, and since then we have developed an expansive portfolio covering VoIP Phones, IP Video Phones, DECT, Video Conferencing, Networking, ATAs & Gateways, IP PBXs, Surveillance, and Facility Access solutions for small to medium businesses. Since September 2016, the company has introduced over 9 new products to market and received four awards from the industry for our successes.
This year was packed with memorable changes— let's go down memory lane and make sure you didn't miss anything.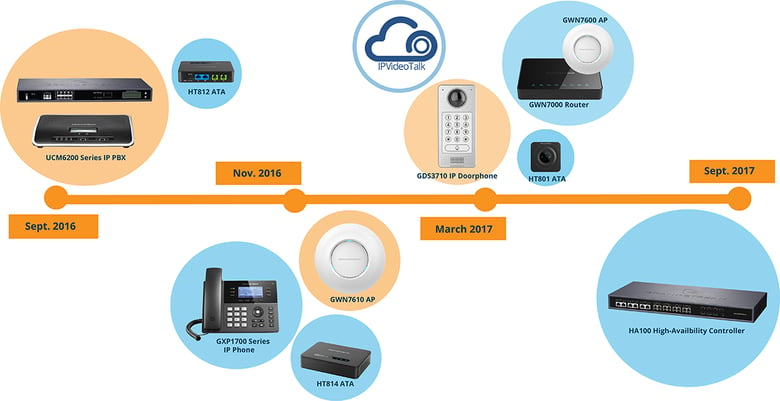 September 2016
The UCM6200 series IP PBX was released. It offers expanded functionality and a faster processor than our previous UCM6100 series. We also introduced the HT812, a powerful ATA with colored ports for easier deployment.
November 2016
The GXP1700 Series Mid-Range IP Phones were a welcome addition to our product line, with features to keep you productive, but aesthetics that set it apart and class up your desktop. Our first Access Point, the GWN7610 also broke Grandstream into the WiFi market with 3x3:3 MIMO and controller-less network management for an easy to use, streamlined installation. The HT814 ATA continued to add to our powerful line of ATAs with colored ports for simple deployment.
March 2016
Grandstream first physical security and facility access solution, the GDS3710 was introduced. This highly-anticipated product integrates with Grandstream IP Phones so that access to the building can be controlled using buttons on the phone to communicate through the intercom or allow visitors to enter the building.
We rounded out our new ATA offerings with the HT801. The GWN7000 Gigabit Networking Router and the GWN7600 Wave 2 AP, expanded our Networking Portfolio to offer a complete, Grandstream solution ideal for providing fast Internet in an environment dense with devices.
March may have been the busiest month of the year with the breakthrough of IPVideoTalk standalone free Web Plans. Web-RTC-based, this video conferencing, webinar, and online meeting platform can be used with your PC, mobile phone, or tablet to ensure you stay connected wherever you are.
September 2017
That brings us to this September, when we released the HA100, our first High-Availability Controller to be used with two UCM6510s for a redundant phone system when failure just isn't an option.
While acknowledging that we manufacture products that help build businesses and connect people worldwide is a huge motivator to innovate, it's also a good thing to be recognized with awards for our innovations. This year Grandstream was recognized in a lot of key product areas.
The Channel Excellence Award was given to Grandstream in September 2016 to recognize Grandstream's powerful relationships with our partners and the kind of success that providing the channel with tools, information, and education brings.

The 2017 Internet Telephony Product of the Year Award was given for our highly-acclaimed GXP1700 Series IP Phones, recognizing the sleek look and feature rich offerings of this series of phones.
Most exciting was our WebRTC Product of the Year Award, for our new IPVideoTalk Room Systems and Web Plans. Since this was our first foray into cloud video conferencing it was very exciting to be recognized for this product.
Last but not least was the 2017 Communications Solutions Product of the Year award, given by TMC to our UCM6200 series. Given out annually, this award honors exceptional products and services that facilitate voice, data and video communications that were brought to market or significantly improved within the last twelve months. See our complete list of awards here.
2017 is Grandstream's 15th anniversary year, and we closed it with our second bi-annual Partner Conference in the beginning of September. This tradition established in 2015, brings all of our partners worldwide together in Boston our Headquarters location to collaborate on sales and marketing strategies and discuss coming innovations. While 2017 was packed with accolades and new products, 2018 promises to top it with success, creativity, and market-disrupting technology.
Subscribe to our blog to stay updated and make sure you don't miss out.