Mobility in the modern workplace is becoming increasingly common and is a standard for office productivity. Flexible office spaces are becoming a trend in many industries, encouraging collaboration and the flow of ideas. When employees are given the freedom to move away from their desks for a change of scenery, both morale and productivity can increase dramatically. The way we use technology on an everyday basis has evolved to improve our collaboration with others both face-to-face and over communication endpoints. Mobile work spaces cut costs, increase collaboration, and improve communication throughout an organization. Even a communal work area of a few couches and a coffee table will allow for encounters outside of the generic cube setting that could end up generating the next big innovation.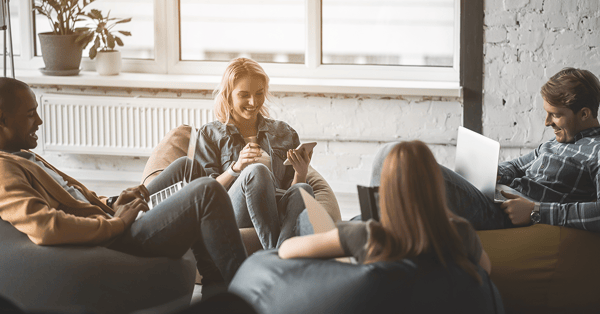 Whether your employees are working in the office, on the road, or from home, a mobility focused communication solution from Grandstream allows for productivity wherever the user may be. Our DECT and WiFi phone solutions allow for mobile communications in any environment. Users may roam with their mobile handsets, free to take their desks and workstations on-the-go. The DP series is an affordable DECT cordless handset solution that allows users to mobilize their network. The WP820, on the other hand, is a high-end and feature-rich WiFi cordless handset providing dual-band WiFi support. These solutions are appropriate for a variety of work environments from warehouses to traditional office spaces. For price-conscious and low handset deployments, the DECT solution provides for strong connectivity when faced with sometimes thicker walls and more hazardous environments. The durable handsets paired with their base stations allow for quick push-to-talk communication between workers, increasing productivity. The WiFi phone solution allows for the wireless handsets to roam from WiFi access point to WiFi access point, requiring less infrastructure investment and a superior higher-handset solution.
The way companies do business is changing rapidly with the growth of new technology and business practices. Decisions are being made faster and require more immediate input. When employees are able to take their work space away from their cubicles, they can still be connected while moving through the office environment. Technology plays a major part in enabling mobility in the workplace. Between laptops, tablets, and cell phones, your work can move with you, keeping you productive while on-the-go. Grandstream's mobile endpoints and WiFi access points can help a business achieve this mobility.