In recent years, there's been lot of talk about bringing mobility to the workplace. Employers are focusing on increasing performance and productivity while supporting more flexible work environments. You may wonder, how exactly can that be achieved? At Grandstream, we use our own IP products to increase employee productivity, like our DECT Cordless IP solution. Implementing this product has led to increased efficiency and improved business practices all around.
Before we dive into our DECT solution, let's analyze why mobility in the workplace matters. According to Forbes, employee mobility leads to 30% better processes and 23% increased productivity— but perhaps what's most remarkable about these findings is that this boost in performance is directly linked to employee satisfaction. When an employee feels accomplished and satisfied, they are empowered to produce better work.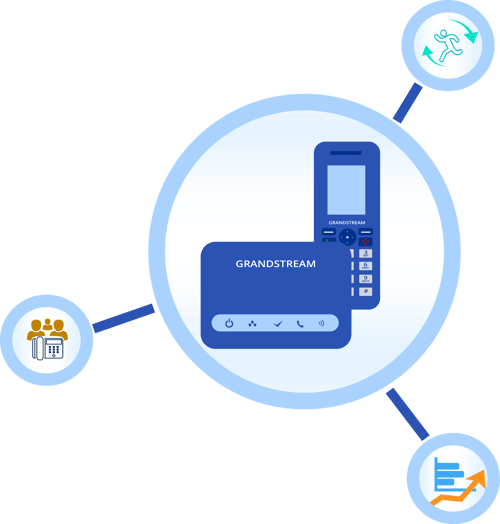 When Grandstream's DECT Cordless IP phone was released, we wanted to provide a solution that made multi-tasking easier while also placing superior IP technology in the market. The DP750, VoIP DECT base station and DP720, cordless HD IP headsets are the main components to our Cordless DECT solution. A solution we deployed internally to help our employees work smarter.
Have you ever stepped away from your desk and missed an important phone call? This scenario was all too familiar at Grandstream. Thankfully, our very own Cordless DECT solution helped solve this problem. Employees received their own DP720/DP750 to complement their VoIP phone systems—anything from our Basic, Mid-range, High-end and Video IP phones— depending on their individual needs. Employees were then free to walk around the office, attend conferences, or refill their coffee without missing an important phone call. This was due to the 300 meter (approx. 984 ft.) indoor range of the DP720/750 series that made mobility easy.
The implementation of this solution also helped improve business practices by reducing lead times. No longer were employees playing phone tag with our warehouse team as the nature of their work required less desk time and more moving around. The result was faster turnaround in shipping orders and making sure the communication between departments were synced.
Overall, we saw higher communication flow, improved teamwork and increased efficiency. This positively impacted employees' work performance, attributing to their productivity and the quality of their work. I like to call this a formula for success thanks to Grandstream's powerful Cordless DECT solution. The perfect fit to provide mobility in the workplace.
---
Sources:
http://www.forbes.com/sites/danielnewman/2016/03/29/is-mobility-the-answer-to-better-employee-productivity/#66687a347439