Recently released, Grandstream's new GSC Series of SIP intercom solutions include the GSC3510, a SIP intercom speaker/microphone and the GSC3505, 1-way public address SIP speaker. This system allows offices, hospitals, hotels, residential buildings, educational institutions and more to build powerful voice intercom solutions that expand security and communication. Read below for deployment scenarios and key features that can be utilized across different vertical markets.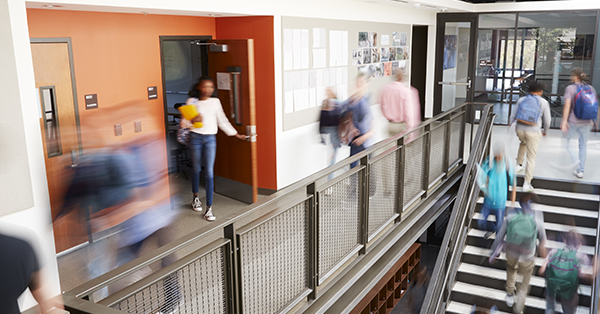 Offices:
GSC3505: Safeguard and improve office communication by deploying Grandsteam's 1-way public SIP address speaker for important announcements. Ideal for large, multi-floor offices, this system can be paired with Grandstream's desktop and cordless IP phones as well as the GDS series of Facility Access products users can create a seamless security solution to screen for and interact with employees, visitors, and guests.
Hospitality:
GSC3505: In a hospitality environment such as a hotel, restaurant, casino, etc., you will want to ensure that it is equipped with a clear and concise intercom system to provide an enhanced communication system for both staff and guests. By eliminating expensive wiring costs, important communication can be delivered faster and more reliable thanks to the integrated dual band 802.11 a/c/g/n Wi-Fi. This type of speaker can be used for both emergency and non-emergency announcements, background music, and more. Additionally, this system can pair with Grandstream's desktop and cordless IP phones as well as the GDS series of Facility Access products that users can create a customized facility management solution.
Education:
GSC3505: By deploying a GSC3505 throughout any large public space in a school system will allow for quick and reliable mass announcements. This type of solution could be deployed into hallways, cafeterias, and libraries, that to be utilized for period changes, emergencies, general announcements and more. Additionally, this 1-way SIP speaker is equipped with an HD acoustic chamber which can help to eliminate echoes that often occur in school hallways and large classrooms.
GSC3510: Ideal for individual classrooms and main offices, the GSC3510 intercom/speaker can be used for two-way communication. Though physical phones are a great for more private conversations within a classroom setting, this speaker makes it possible for teachers and students to quickly interact with the main office without much intrusion from teaching. The GSC3510 includes 3 directional microphones with MMAD so a teacher can be standing anywhere within the classroom and can clearly be heard by the receiving end. Traditional intercom systems can become expensive due to the wiring of individual systems in each classroom, which makes this solution more affordable and reliable due to the integrated dual band Wi-Fi.
Logistics:
GSC3505: In a logistics environment, being able to communicate hands-free is key. In large facilities it can be hard to deliver mass announcements relating to closing periods, incoming deliveries or emergencies, this device enables employees to continue their work without being hindered by a communication device such as a desktop phone. Grandstream's 1-way public address SIP speaker is equipped with an acoustic chamber to eliminate echoes throughout any environment and will provide a reliable source of instant communication to all workers. Paired with the WP820 cordless IP phone, staff leads can easily communicate through the speaker by using the push-to-talk functionality.
Hospitals:
GSC3505: Ideal for large medical facilities such as a hospital this SIP speaker allows for crystal clear HD audio announcements. Deploy this audio communication system throughout the entire facility to ensure that any emergency announcement such as a lock down, incoming ER patients, or doctor will broadcast without question. The GSC3505 SIP and multicast paging feature is ideal for a hospital scenario, certain 'priority groups' can be set up and users can assign other devices to these groups. For example, general announcements might have a lower priority over emergency pages. This way, when a general announcement is going over a GSC3505 from a reception desk phone such as a GXP2130, an emergency page from a doctor's WP820 can cut in and take priority through the GSC.
GSC3510: This SIP speaker / microphone would be most useful for individual patient hospital rooms, or at a nursing facility for a reliable two-way communication system. Both patients and staff can use this solution to narrow response time and increase safety, especially when mobility may be an issue. In this scenario utilizing the devices' two-pin peripheral port can hook up to an emergency button that patients can hit to auto-dial nursing stations. Additionally, this could be paired with Grandstream's GDS series of Facility Access Systems to communicate with incoming guests, patients, and employees outside of normal facility hours.
More on Vertical Solutions
Interested in learning more about Grandstream's various vertical solutions? Check out our Vertical Industry Solutions page to learn how Grandstream can be used to create the perfect deployment across a wide range of industries. Click the link below to access guides, an eBook, previous blog posts on this topic, and more.