Smart homes are the buzz over the past few years. Some of the largest consumer-focused brands in the world, including Google and Amazon, are making the smart home mainstream through easy-to-use and affordable solutions. Amazon's Alexa, Google's Assistant, Nest's connected home devices and even the Ring Video Door Bell link together lighting, temperature control, security and home appliances to allow us to be more productive, comfortable, and safer in our homes – while also saving money.
We are beginning to see what the future of the home will look like, but what will the future of the office look like?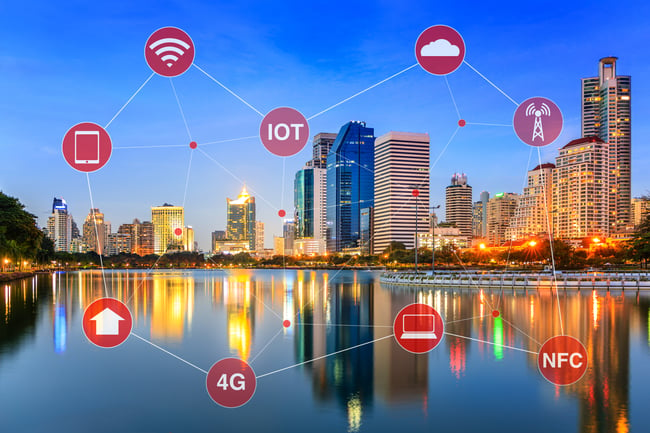 Usually the smart office is thought of in the same way as the smart home – control of lighting, HVAC, security and appliances through centralized networks that help make an office more sustainable and cut back on power consumption. If you are looking for a example of this and the way that data can be used to drastically minimize the footprint of a business while making an office more comfortable for employees, check out Deloitte's office in Amsterdam.
The next step needed to make the smart office mainstream is to incorporate functions that make a business more productive and more profitable. For this reason and this reason alone, I believe the smart office has a ways to go. With that said, the idea of a smart office is much more complicated then the smart home, as to truly make a difference it needs to use data, communication flows, presence and other real-time factors to increase revenue and sales.
Though they may not be widely used at the moment, there are some intriguing examples of what the smart office of the future will look like, and how it can improve business and communication processes. Let's take a deeper look.
IoT and BYOD
The "Internet-of-Things" offers the ability to connect every internet-capable device within an office to transfer and access data automatically in real-time. It offers a seamless way to connect all of the devices, applications and platforms we use every day, allowing them to work together and create smart, proactive, impactful technology solutions that make our lives easier. This offers the potential for businesses to integrate popular apps, messaging platforms, scheduling, customer relationship management and more, onto a centralized network that can be accessed on any device. This includes employee's own personal devices. Check back in a few weeks for a blog post that will take a deeper look into the potential that IoT offers to improve business processes.
Automated presence and Personal Assistants
Probably the coolest example of smart office functionality that I have seen comes from our friends at BroadSource. Their PiPA mobile assistant is the first and only mobile platform that uses the power of smartphone hardware sensors and software capability to create user context. When paired with any BroadSoft BroadWorks service platform, PiPA uses the orientation, movement, location, proximity and calendar of any mobile device to automatically create communication flows, respond to requests and generate real-time presence updates. Check out BroadSource's website to learn more.
Smart, and open, video conferencing systems
While we are already seeing a wide-range of conferencing platforms that support attendance from any device, the next step is to make those meetings more efficient through real-time, data-and-presence-driven smart technology. The market is already seeing a few different approaches to generate smarter meetings, led by facial recognition and virtual reality solutions. There are solutions out there that use facial recognition to initiate meetings, track presenters, adjust video and audio settings, show relevant content based on who is speaking, invite attendees based on meeting context, and more. Virtual reality meetings offer the potential to create virtual rooms that appear as if everyone is sitting together while changing the appearance of rooms, overlaying supporting graphics, and more.
The move to open office designs
There are a lot of factors that affect the productivity of a business. A new one that has come into the limelight and has proven to have a major impact is the design and layout of an office setting. Alan Ni, director of vertical marketing for Aruba, said it best.
"In addition to the types of technology being utilized in smart offices, office design itself is changing quite drastically. Rather than the traditional walled-off offices and set, one-size conference rooms, today's smart offices increasingly include open floorplans, with flexible spaces that can be used for various purposes throughout the day. Driven by mobility, the IoT, and consumerization of technology, modern office design is working to ensure form and function work together seamlessly."
There is no doubt that these trends are just the beginning of the smart office. As with any technology, in order for these types of smart solutions to have mass market appeal and drive results, they need to be easier to use and more affordable. The idea of the smart office is still in its infancy and has a long way to go. Stay tuned for that.