We recently released our new generation of DECT Cordless solutions – the DP730 and DP722 handsets along with DP752 Base Station. These devices offer a mid-to-high-end DECT solution featuring sleek new designs, enhanced user interface and a powerful suite of new features. Let's take a look at the expanded feature set offered by this new generation of Grandstream DECT solutions and how those features are ideal for a variety of vertical industry deployments.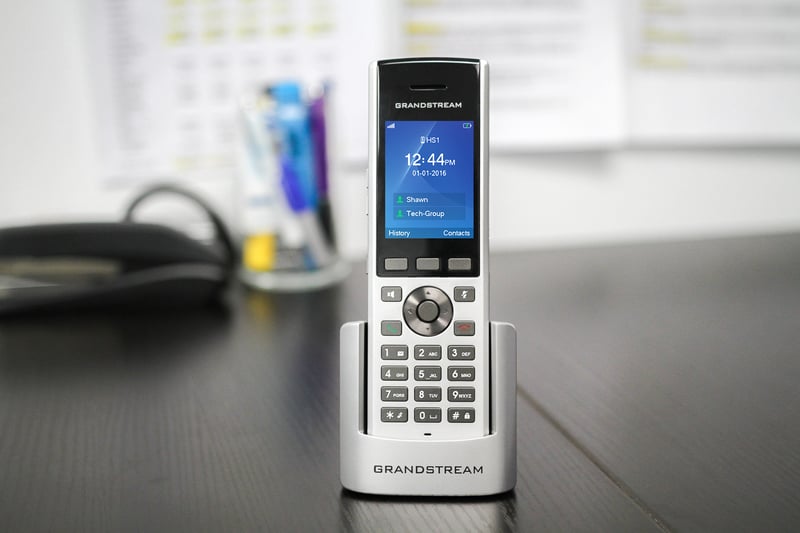 Extended Outdoor Range
Where most DECT solutions on the market support up to 300 meters range outdoors, we have optimized our new solutions to extend that range. The DP730, our new high-end handset, offers market-leading outdoor range up to 400 meters while the DP722 offers range up to 350 meters outdoors (both must be used with the DP752 Base Station to achieve this range).
Vertical Impact: Roam further and do more
The DP730 and DP722 allow your outdoor staff to roam further and do more while still being connected, making them ideal for park and outdoor event-staff, port workers, warehouse staff and more.
Battery life
The DP730 offers double the battery life of any previous Grandstream DECT handset, 500 hours of standby time and 40 hours of talk time. It also includes a long-lasting and easily rechargeable lithium ion battery.
Vertical Impact: Go an entire week without having to charge your phone
Allow office employees, school staff, warehouse workers, hotel maintenance and cleaning staff, retail associates and doctors/nurses to double the amount of talk time they get from one charge and without being concerned that their battery will die during the busy work week.
Accelerometer
The DP730 is our first DECT handset to include a built-in accelerometer, which allows the device to sense when it is in motion. This offers a powerful security element in that the device could automatically trigger a panic call or PTT call when the handset senses it is being dropped or is still for too long. This also allows it to maximize battery life, where if the device is face down or still for a certain period of time, it can switch into standby mode. For a further explanation about the technology behind an accelerometer, check Wikipedia.
Vertical Impact: Proactively protect your workers
Warehouse workers, maintenance staff and industrial employees are always climbing up and down ladders and around heavy equipment. The DP730's built-in accelerometer adds a powerful method of safety for them to automatically and immediately notify others if they fall or get hurt.
Push-to-Talk
Our new DECT solutions offer push-to-talk (PTT), creating an instantaneous voice connection between a group of handsets to allow for immediate communication. The DP730 includes a dedicated PTT button right on the side, while the DP722 offers soft keys that can be programmed as PTT buttons.
Vertical Impact: Expanded Safety and Communication
Allow on-the-go staff to easily and quickly keep in touch with each other and communicate instantly. This adds both a layer of safety but also expands productivity for school staff, doctors, nurses, warehouse staff, hotel maintenance teams, retail associates and more.
Mobile Facility Access
The DP730 and DP722 handsets can be paired with our GDS series of Facility Access Systems to allow users to manage, restrict and allow access to any door right from the handset. When they receive a call from the GDS device, they allow you to have an intercom conversation with a visitor and press a button on the DECT handset to open the door. This is supported right our-of-the-box.
Vertical Impact: Control access to any facility, on-the-go, from the palm of your hand
By pairing the DP730 and DP722 with the GDS series, access to any facility can be completely secured and managed simply from these cordless DECT phones. This is ideal for any area where security and facility access are critical, including school, offices, residential buildings, warehouses and more.
Works with existing DP models (DP720, DP750 and DP760)
If you have an existing deployment of Grandstream DECT solution and you want to update it with these new devices to take advantage of the features mentioned here, you can mix and match our new and existing DECT models. The new DP752 base station will work with any Grandstream DECT handset (DP730, DP722 or DP720), while these new handsets are also supported by our other base station (DP750). Both base stations will also be compatible with the DP760 DECT repeater.
Want to learn more about our new generation of DECT cordless solutions? Click below to check out the recording of the introductory webinar.