Residential buildings, commercial structures, office complexes, and other large facilities all have something in common: the need to track, manage and control people coming in and out of the premises. Because of this, it is essential that a facility access solution enable authorized users to come and go with ease, keep unauthorized users out, and allow admins to provide situational facility access with a click of a button. With this in mind, we set out to create a door system that can not only screen those who are coming in and out of a building, but can be fully customized specifically for the needs and processes of any facility. If you are building a facility access solution with the GDS series, here are two capabilities that you can use to make the most of your client's solution.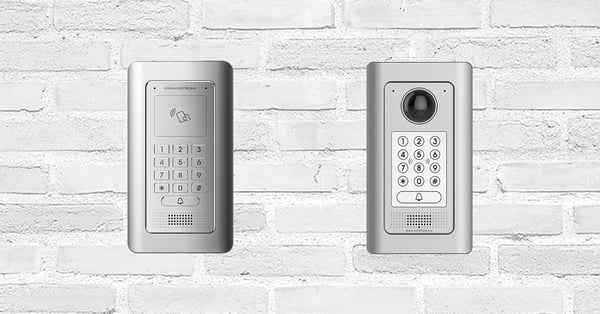 1. Extension and Remote Access Administration
The most common way for a visitor to gain access into a building is, as you'd expect, by pressing the doorbell. On the GDS series, both devices have a specified doorbell button that can be programmed to call in directly to a front door receptionist or facility admin, however there are many more options for customizable access than just that. Calls can be made to specified end-point extensions, such as specific apartments within a residential complex, and then from there a user can answer the call and give or prevent access with a touch of a soft key. You can also create specific PIN codes for each office, business, apartment or dorm that allow visitors to reach who they visiting and be let in right from those users' desktop phone. The GDS even supports this functionality with mobile soft phones, such Grandstream Wave, so even when a user is away from the physical premises they can still grant and control access.
2. Time-Based and Location-Based Authentication
Even when a user has key-code, RFID, or key-FOB access to a facility through a GDS series device, building administrators may not want to allow access at all parts of the day or to all areas of the facility. When this is the case, the GDS has the ability to customize access to the building based on predefined time or location constraints. For time-based access, the facility administrator can set different groups or individuals to have access at different times, such as one group for office employees who have access from 8:00 AM to 6:00 PM and then janitorial staff who has access later in the night. Another great option is to give security staff of a commercial complex access at all points of the day, while store employees only have access during operating hours.
Facility admins can also create temporary codes that expire on a given date and time, set holiday hours, and set vacation dates that suspend a user's codes within those dates. With location-based access, an admin can configure each user account to restrict or allow access based on the location of the a GDS series device. For example, you might want a janitorial team to have access to most of the facility but not to sensitive areas such as test labs and server rooms.
Providing screened access to a building is the key functionality of a facility access system, and Grandstream's GDS series provides much more than that. It's integration of unified communications and fully customizable user-access features allows any organization to have a security solution created just for it that can team up with their communication solution. In this blog we covered two features that starts users down the path of customizing their GDS series device. Now that you're aware of these useful features, consider how a GDS series device can help your clients achieve their facility access and security goals.
It is important to note that user and group customization is done through the GDS Manager, a free tool that can be downloaded from the Grandstream website that allows an admin to enhance and manage all GDS devices in a network, entirely from one convenient software application.