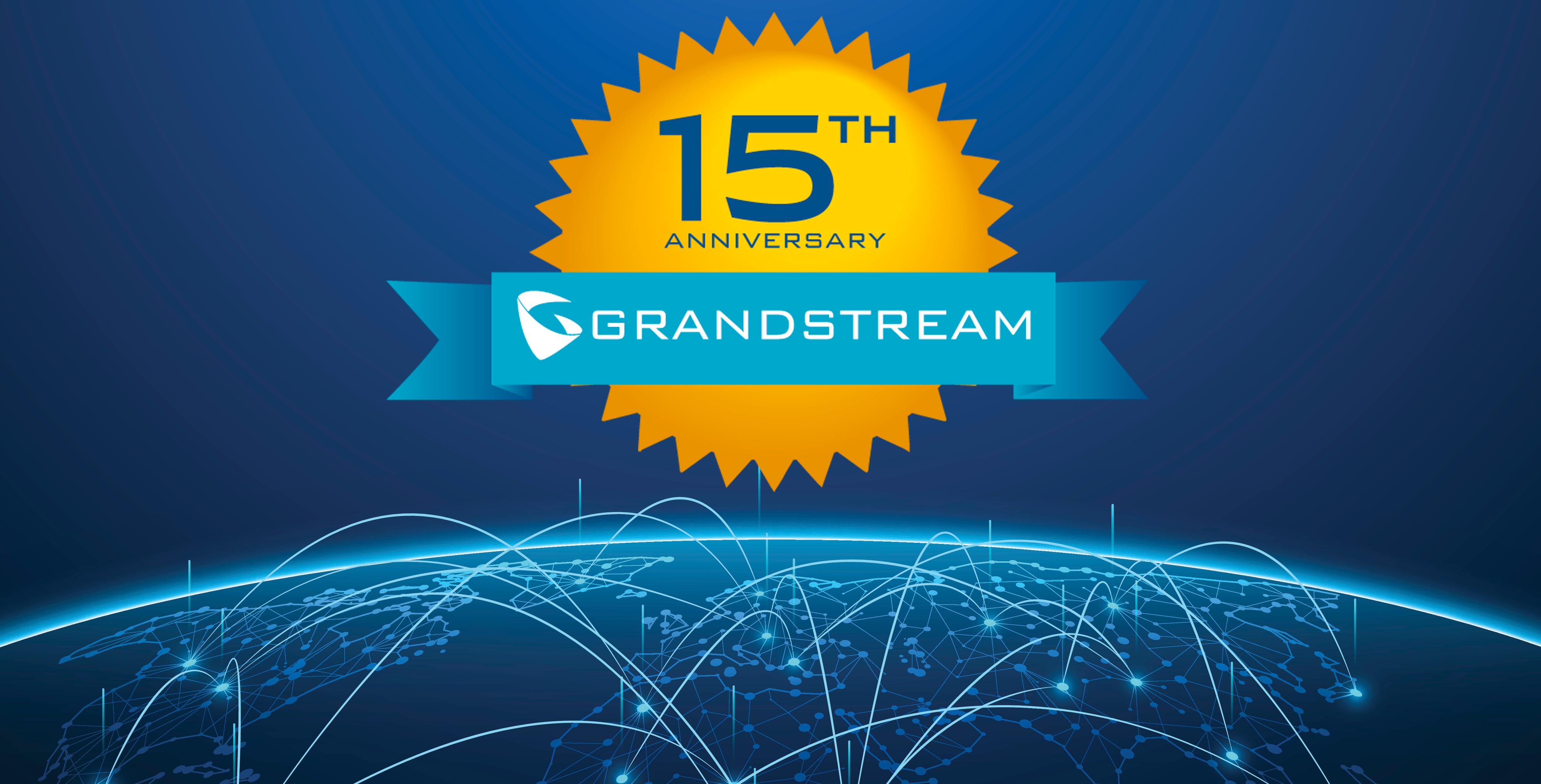 This year Grandstream is celebrating our 15th anniversary. In 2002 our founders set out to build what ended up being some of the first SIP devices anywhere in the world. They were looking to take advantage of what was at the time a new technology fad known as "Voice over internet protocol." In 2003, the first official Grandstream products hit the market: the BT100, a simple IP phone, and the HT286, a 1-line Analog Telephone Adapter.
In 2005 we introduced our first ever IP video phone, the GXV3000

In 2008 we complimented our VoIP solutions with the addition of IP video surveillance solutions

In 2013, we introduced the UCM series of IP PBXs to move down the road of offering complete solutions that are easy-to-use and save money

In 2015, we introduced our first ever video conferencing device, the GVC series

In 2016, we introduced our first ever cloud offering – IPVideoTalk

That same year, we expanded into the networking solutions marketplace

This year, 2017, we expanded into the facility access market
What started as a company designing 2 products out of an apartment in Boston has now become one of the largest and most successful unified communications manufacturers in the world. Grandstream currently provides over 65 products ranging from VoIP to conferencing to networking solutions. We have grown to become one of the 4 largest manufacturers of IP phones, a top 2 manufacturer of IP video phones, the top manufacturer of ATAs, a market-leader in on-premise IP PBXs – and we have supplemented all of that with award-winning physical security, networking, conferencing and cloud solutions that are destined to become market leaders. Grandstream is one of the only companies in the world that provides a one-stop-shop for all business communications needs.
The decision to expand into every one of those product categories I mentioned earlier had similar roots. In almost every case, we saw that a large portion of the market, specifically the SMB market, was being ignored. In the modern age, SMBs need access to the same communication options as large enterprises in order to compete. However, SMBs do not have deep pockets or dedicated IT Teams.
We have made it our mission to provide a full portfolio of products that empower businesses to succeed like never before through access to powerful communication platforms that are more powerful and easier than ever to install, manage and use.
We believe in connecting the world

We believe every business should have the tools to communicate from anywhere on any device

We design solutions that make this belief a reality
Over the coming months and years, we are excited for you to learn about the next generation of innovations in our roadmap – solutions that will continue to help us achieve our mission and build on the 15 years of expertise that we bring to everything we do. We will continue to build depth and breadth into our product line in order to allow our customers and channel partners to build fully customized, powerful unified communication solutions - all under the Grandstream brand.
---