Our new generation of IP phones, the GRP2600 Carrier-Grade series, has raised a lot of excitement. We've recently released the GRP2616 to this series and continue to build out the line's diversity. With a new line of products comes a lot of questions about features, capabilities, design, and technical specs. In this blog post I'll answer frequently asked questions and provide some insight about this powerful series of IP phones. Read on to learn more.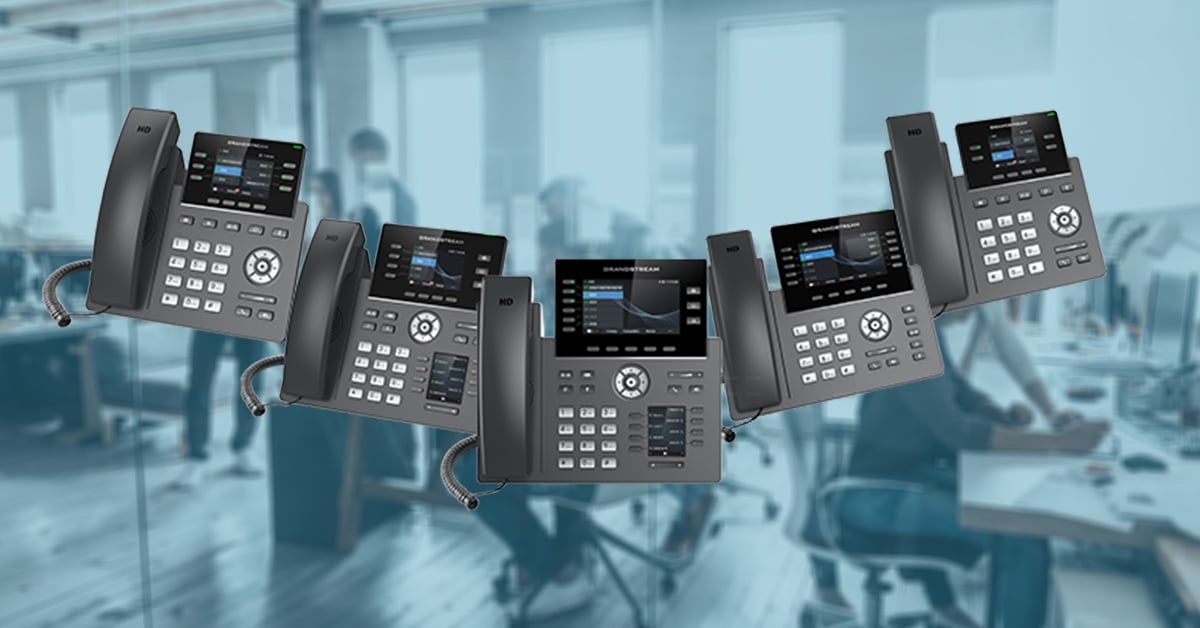 Q: What do you mean by describing this series as "carrier-grade"?
A: The GRP2600 series is designed to make mass-deployments easy, efficient, and quick. It does this primarily through a unified firmware for all models, but also other features such as alias based configuration XMLs and GDMS (Grandstream Device Management System) support. It comes equipped with industry-leading features and call support.
Q: Is it only available for the ITSP markets?
A: The GRP2600 series is available to all our reseller and installers through our standard channel distribution.
Q: How does the new GRP series fit into Grandstream's current portfolio of phones?
A: This new generation of desktop phones provides a customizable new line based on call volume and call-handling features. Compared to our other lines, each GRP devices fits as a slightly "higher-end" alternative to phones throughout our portfolio.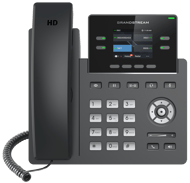 GRP2612 – This two line/SIP account devices delivers dual 10/100Mbps network ports, Bluetooth, integrated PoE/WiFi on alternative models, and 2.4 inch color display. It can be compared to the GXP1600 series as a higher-end alternative.
GRP2613 – A three line/SIP account desktop end point with dual gigabit network ports, PoE, Bluetooth, and 2.8 inch display. This device is comparable to the GXP1700 series, however with a more interactive display.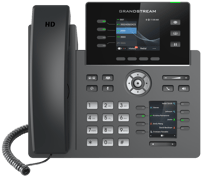 GRP2614 – A flagship model of the series, this devices comes equipped with dual LCD screens, dual gigabit ports, PoE, WiFi, and Bluetooth capabilities. The second LCD on the phone creates an easy-to-use and vibrant digital BLF/speed dial display. This device can be compared to the lower models of the GXP2100 series, supporting additional features such as WiFi and digital BLF display.
GRP2615 – This phone represents one of the higher end models of the initial GRP series. It can support up to 5 SIP accounts with a 4.3 inch display, dual gigabit support, PoE, WiFi, and compatibility with our new digital extension module. This device sits above the GXP2100 series.
GRP2616 - This device is a 6-line carrier-grade IP phone designed with zero-touch provisioning for mass deployment and easy management. Like our GRP2614 series, it also supports a second LCD screen on the phone so high call volume users can operate as efficiently as possible.
Q: How does the GRP series help ITSPs and enterprises with mass deployments? What features give them an advantage?
A: The biggest advantage through the new series is a unified firmware and configuration template throughout the series. This means one firmware image works across all devices, providing faster bug-fixes, quicker upgrade processes, and overall easier device management.
With this new alias based system, we're also developing a tool to convert other major brand's config files into Grandstream config files. This will help ITSPs make the switch to Grandstream.
Next, the GRP line supports a replaceable LCD panel on all models. Meaning ITSPs, large enterprises, hotels, and other companies that require mass deployments can have their own logo easily replaced on the device.
Finally, our new cloud-service called the Grandstream Device Management System (GDMS) brings some major deployment enhancements to ITSPs and Installers.
Q: What is the GDMS?
A: The Grandstream Device Management System is a cloud-based device provisioning platform that allows a company to remotely manage Grandstream devices before, during, and after deployments. The platform supports template configuration groups by device model, series, and custom groupings. Each device can be set to configure once it is connected to the internet, simply by associating each device to the proper configuration template prior to its first time being brought online. This offline device configuration support gives ITSPs the ability to run a completely hands-free deployment process, and resellers/installers can experience a faster and easier setup.
The GDMS also supports usage statistics, call quality reports, and customized alerts to notify ITSPs or installers of any issues in the event of device/SIP account failure. Automated support tasks such as firmware updates, device configs, restarts, and factory resets can all be setup from the cloud as well. To learn more about the GDMS and how to use it, visit our blog post here.
Q: What is the new Alias Config XML?
A: In the past, our configuration templates/XMLs were based off an old, and to be honest confusing, Pvalue system. Through this system, there was no consistent Pvalue for a feature from phone to phone and series to series, meaning customizing config XMLs was time consuming and a pain. This new series adopts an industry-standard alias system, so all phones will have the same feature-name that can be used when setting up a Config XML. This new structure will also be rolled out to our GXP lines in the future.
Q: Opus support?
A: Yes, all phones in the line support the Opuc codec.
Still have some questions about the GRP series that are unanswered? Leave a comment below with your question and we'll respond back with an answer!