Like any technology, VoIP requires constant innovation and adaptation in order to keep up with the always-changing way we live and work. Over the past decade, VoIP has shifted from being a voice protocol to the powerful unified communications engine that is today. The future of VoIP, and more specifically VoIP endpoints, will require continued evolution and adaptation. With the ability to communicate from almost any device, how do manufacturers ensure VoIP endpoints continue to be relevant?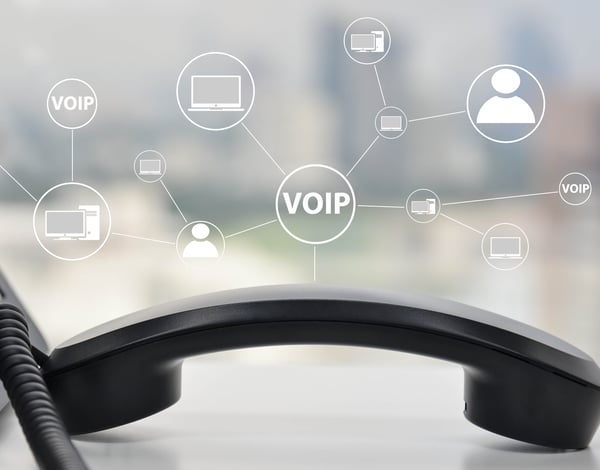 The answer to that question may very well lie in the tenants of the Internet-of-things (IoT), a paradigm-shifting idea that is changing the way we look at technology. The IoT strives to connect every internet-capable device "to transfer and access data over a network without human-to-human or human-to-computer interaction." (Tech Target). It offers a seamless way to connect all of the devices, applications and platforms we use every day to allow those innovations to work together and offer smart, proactive, impactful technology solutions that make our lives easier.
Every VoIP device can and should be able to serve multiple purposes beyond sending voice and video-packets, by teaming them up with other devices and services. Most every SIP device has built-in computing power and at least a speaker and/or video camera, giving these endpoints the ability to control or be controlled by other devices, platforms and sensors. This is where the IoT meets VoIP and why the future of VoIP may very well be based on the IoT. Manufacturers like us are now looking at VoIP endpoints as dynamic solutions that can proactively work together, share information and serve a variety of different purposes.
Recently we have sought to expand the way our products work together, and the integration options they offer, in order to allow our customers to build smart offices that expand the flow of information to drive business results. Let's take a look at some examples that apply to Grandstream solutions and are also popular VoIP trends.
Property Management Systems
By integrating a property management system (PMS) with a VoIP system, VoIP endpoints can run and manage critical day-to-day operations within any hotel. Hotel staff can use any IP phone to access or feed data, like mini bar status, into the PMS platform. That data can then be accessed on many other devices for management and billing. We have integrated our UCM series of IP PBXs, and therefore our IP Phones, with a variety of PMS' (including Mitel and HMobile) to allow hotels to deploy endpoints not only for voice calls, but also for real-time hotel management.
Customer Relationship Management platforms
IP phones can now be integrated with customer relationship management (CRM) platforms to allow them to provide detailed information about every caller and feed data from the call back into the CRM. That information can then be accessed from other devices. Our UCM series of IP PBXs has been integrated with SalesForce, SugarCRM and ZOHO to allow our IP phones to be extensions of these CRM platforms.
Security and Facility Access
VoIP endpoints can play a proactive role in keeping any location safe and secure while also controlling access to that facility. IP security cameras and door access systems can be called from any internet-connected device to view live feeds. These security devices and platforms can be set to automatically call and notify IP phones when any security events occur. IP phones can also work with door access systems, like our GDS3710, to allow users to be notified when visitors arrive and to allow or restrict access.
Mobile Apps
The merging of VoIP platforms with popular mobile platforms has begun, and Grandstream was one of the first to offer this. Our GXV series of IP Video Phones for Android™ are game-changing IP phones that run the Android operating system, allowing these phones to download and use any Android app. This offers a lot of IoT possibilities, for example, the ability to control a smart thermostat or lighting system in real-time, using an Android app.
Messaging

VoIP endpoints now offer a variety of real-time messaging options and applications that allow them to communicate with almost any other device. Many VoIP platforms are being integrated with messaging platforms, allowing use of Skype, Google Hangouts, Slack and more, from many IP phones. Grandstream IP phones, when integrated with our UCM series, also support SMS text messaging.
Scheduling and Calendars
Many UC systems, including our UCM series of IP PBXs, and many video conferencing products, including our GVC series, can be automatically synced with any Google Calendar. If you schedule a video conference with your GVC series device, or use the conference call scheduler within our UCM series, the devices will automatically add those events to any Google Calendar and call all participants when the event begins.
Mobile device integration
All the features of your VoIP system can be accessed on any mobile device. Softphone apps, like our free Grandstream Wave app, allow users to use mobile devices to access all VoIP features and real-time data. Many IP PBXs, including our UCM series, can forward calls to mobile phones as well as faxes and voicemails to email. This article has also touched on a variety of other ways that VoIP endpoints can share information with other internet-connected devices.
This is just the beginning…
Since every SIP device is connected to the internet, includes built-in computing power, and includes voice and/or video functionality, the IoT possibilities for VoIP endpoints to control or be controlled by other devices, is almost unlimited. The potential is there for VoIP devices to automatically control everything within any facility based on real-time data, including lighting, HVAC, communications flows, presence, maintenance needs and more. We are just beginning to discover the true potential that the IoT offers to VoIP. Stay tuned.