If you're familiar with Grandstream, you know we're not just a hardware provider, we're also a solutions provider. Whether its IP communication solutions, networking, surveillance or a total Unified Communications suite, we're here to provide comprehensive solutions that integrate technologies across a wide variety of business needs. It is in this mindset that we created the GDS3710 IP Video Door System. Let's dive into how users can integrate a GDS into a greater facility access and surveillance solution.
Through this blog you'll learn more about integrating the GDS3710 with third-party devices, including network video recorders, video management software, card scanners and door locks.
If you're looking for information on native integrations with Grandstream products, please take a look at our guides and resources below:
Using the GDS3710 with the GXV Series IP Video Phones
Using the GDS3710 with the GXP Series IP Phones
Using the GDS3710 with the GVR3500 Series Network Video Recorders
Using the GDS3710 with Grandstream Wave: For AndroidTM For iOS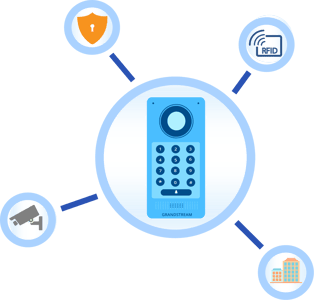 Network Video Recorders & Video Management Systems
It is common for the GDS3710 to be deployed along with a network video recorder (NVR) or video management software (VMS), and in these cases there are easy ways to setup and operate the GDS.
The GDS3710 is ONVIF profile S compliant, allowing it to easily integrate with third-party ONVIF compliant NVR and VMS systems. The GDS can be installed and managed just like any other device configured to the NVR or VMS, allowing for viewing, monitoring, recording and other compatible features. No need to scrap an existing NVR or management software to accommodate the GDS3710. Instead, build it right into an existing system for a fully interconnected surveillance and facility access solution.
If you're looking for more information on Grandstream's certified surveillance partners, check them out here. While other ONVIF profile S compliant products are also compatible, these companies have undergone certification testing to ensure complete compatibility.
Interested in using a different product or brand not on the above list? Learn more about ONVIF profile S and compatible features here and choose a compatible device of your choice.
The GDS3710 can also be used with GDS Manager, Grandstream's free access management software. If your deployment doesn't require an NVR or third-party software, GDS Manager allows users to manage a network of GDS devices with features such as user management, reporting and more.
Card Scanners & Key Readers
Not all large deployments will require a GDS3710 at every door. Instead, you will likely find a mixture of GDS3710s and third-party card readers and scanners. For example, a GDS video door system is used at the outdoor entrances, however secured areas within buildings, such as private document rooms, restricted server rooms or employee-only areas will feature key readers or card scanners for access. In these scenarios we recommend the use of RFID scanners to use with tap cards and key fobs. There are many different options for these RFID scanners as the GDS3710 features a Wiegand interface, allowing you to connect third-party card readers back into the greater GDS system. Since Wiegand interfaces are a widely used access control mechanism it's easy to find compatible devices to integrate with your GDS facility access solution. Grandstream also offers an RFID card reader. No matter if you're using our model or a third party device, you can manage the device, cards and user data all through GDS manager.
For installing third-party devices you can find instructions for wiring the Wiegand interface here, and more details in our User Manual as well.
Door Locks
Facility access control is nothing without door locks, and the GDS3710 integrates seamlessly with a wide variety of lock types in order to fit any deployment need. The GDS supports electric strike locks, electric bolt locks and magnetic locks. Whether you're installing the GDS3710 in a new building or an existing building, you can rest assured that your choice and preference in lock type can be accommodated within the greater facility access system.
Electric strikes and electric bolt locks are the most common lock type we see in facility access deployments, and the GDS3710 supports both fail-safe and fail-secure versions. If you're debating which version is best for you, think about what you're protecting within your building. Fail-safe locks are best to maintain the security of people, as the lock is released if the electricity cuts off. Fail-secure locks are best to protect property, as the lock remains closed even when electricity cuts off. Whichever you need, the GDS can maintain the exact level of access and security you need.
You can find instructions for connecting an electric door strike here, and for more details see the User Manual.
Now of course the GDS3710 is an IP device after all. Therefore, in addition to the security, monitoring and facility access devices mentioned here, the GDS3710 IP Video Door System also integrates with IP phones, IP PBXs and other SIP products, closing the loop and creating a fully integrated IP communications and facility access solution. To get a picture of the full integrated solution, including devices mentioned here and IP communications products, check out our GDS3710 Deployment Guide.