A core part of our mission is to provide our partners and customers a one-stop-shop for all of the unified communication solutions needed for any business. Over the past few years, we have furthered that mission by expanding our collaboration portfolio to cater to the needs of businesses ranging from a small firm to an enterprise. If you are building a video collaboration network, we offer a full suite of scalable solutions that combine to create to a powerful yet easy-to-manage platform. Let's take a look at how our video conferencing solutions can be catered for home offices, small businesses, medium-to-large businesses and enterprises.
Home Offices and Retail Shops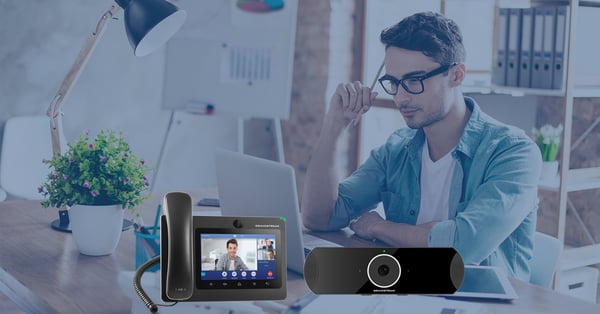 Home offices and retail shops need simple and effective tools to collaborate with vendors and customers. Our GXV series of IP Video Phones offers offer a powerful and extremely cost-effective desktop collaboration solution. The devices in the series all include a built-in camera and run on Android, so users can make video calls via SIP or Android conferencing applications. The GXV Series adds built-in WiFi and Bluetooth and can even access your Google Calendar and Contacts.
For a more robust collaboration solution that is high on features and low on price, the GVC3210 offers an Android-based video conferencing endpoint with built-in microphones that even supports 4k resolutions. See the next section for more on the GVC3210.
Small Businesses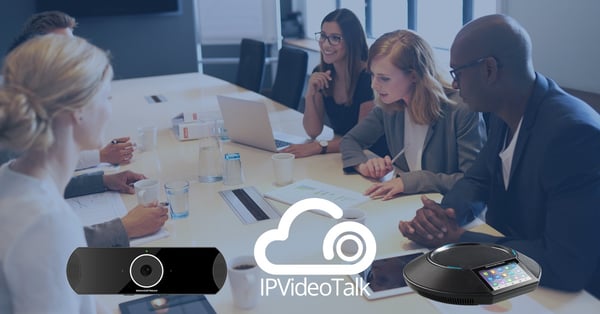 Small businesses often have limited resources and lack technical expertise yet still need the tools to collaborate through with their clients, customers and partners. The GVC3210 was designed specifically for small-and-medium sized businesses as it offers high-end features packed in an easy-to-use Android-based interface that will be familiar to any smart device users. It supports up to 4k video resolutions, a variety of screen sharing options and has built-in WiFi. Simply put, the GVC3210 is loaded, will give a great impression to clients and customers and has an unbeatable price point.
While the GVC3210 supports point-to-point and Android app video conferencing, it is taken to the next level when paired with IPVideotalk, which is included free for 1-year with all GVC series devices. IPVideoTalk offers a centralized, cloud-based platform that allows you to hold meetings and webinars that can be joined from a GVC series device, web browsers, Android and iOS devices and PSTN lines.
Other devices to round out the deployment:
Medium and Large Businesses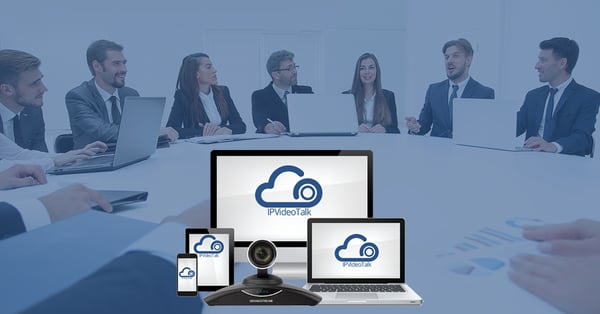 Most medium-and-large businesses have at multiple office locations, remote workers and traveling employees. These businesses need to create an-easy-to-manage, affordable and scalable collaboration solution that keeps tens to hundreds of employees engaged, connected and productive from anywhere. IPVideoTalk and the GVC series seamlessly pair to offer a centralized cloud platform that an entire company can access from anywhere on nearly any device at any time. The combined solution supports up to 100 meeting participants, 8 video feeds, unlimited meetings and much more. A free 1-year subscription of IPVideoTalk is included with each GVC series device.
With 3 different GVC series hardware models, how do you decide which GVC series device is best for your needs?
Thanks to those built-in MCUs, the GVC3202 can host up to 3-participant SIP video conferences and the GVC3200 can host up to 9-participant video conferences without needing a dedicated service platform. In this use case, you would register the GVC series device as extensions on any IP PBX and call the devices' extension to join meetings.
Other devices to round out the deployment:
Enterprises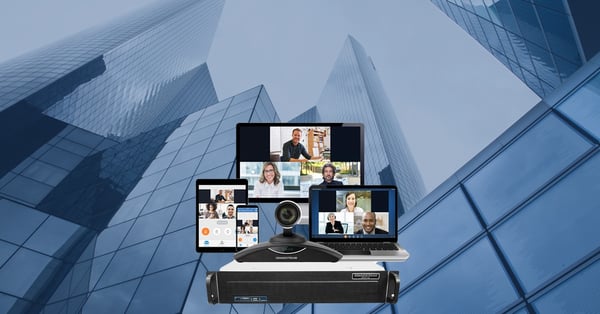 Enterprises have thousands, if not tens of thousands, of employees. They are generally spread throughout many different physical office locations and have many remote workers and traveling employees. Enterprises need to allow hundreds of people to collaborate at any time and for many meetings to occur simultaneously. They also require real-time management of their collaboration solutions. To cater the large-scale needs of enterprises, we created IPVT10, an on premise video collaboration server that allows enterprises to build, customize and manage their collaboration network. It is a dedicated server that offers nearly triple the video conferencing capacity of any IPVideoTalk plan. With IPVT10, you can build completely customized collaboration solutions that can be accessed from anywhere in the world, support up to 120 video participants per meeting room, up to 300 simultaneous attendees and 10 simultaneous meetings. You would then add GVC series devices (see the previous section to help identify which ones are best for you) in physical conference rooms to link in-office conference rooms with other offices, mobile and web users.
Other devices to round out the deployment:
Want to learn more about our collaboration solutions? Join us for a webinar on Friday, December 7 to learn more. Click below to sign up.