Can GAC2500 support microphone extension?
Microphone extension is not supported on GAC2500. However, GAC2500 supports audio extension with another GAC2500 via cascade mode.
Can I connect a headset to the 3.5mm interface on GAC2500?
No. The 3.5mm interface is used to connect to cellphone or PC. In such situation, GAC2500 is used as a role of headset.
Does GAC2500 allow 3rd-party apps to join the local conference?
For the app on GS Market, GAC2500 allows them to join local conference. However, the performance may vary when using 3rd-party app during conference.
Does GAC2500 have Daylight Saving Time adjustment?
Yes. GAC2500 can automatically adjust for Daylight Saving Time based on IP location.
Does GAC2500 support customized LED?
Yes. Please go to GAC2500 web UI->Maintenance->Device Management, and you can customize the LED display for different scenarios.
Does GAC2500 support video playing?
GAC2500 supports video playing and also answering video calls. However, it cannot make video calls.
How can I use a cellphone to join the conference on GAC2500?
There are 2 ways to connect cellphone to GAC2500 and use the cellphone for conference audio.
1. Use a 3.5mm AUX cable to connect the cellphone and GAC2500.
Or,
2. Connect the cellphone and GAC2500 via Bluetooth. On GAC2500, please make sure to enable headset mode in Bluetooth settings.
How many contacts and call histories can be stored on GAC2500?
GAC2500 can store up to 2000 contacts and 2000 call histories.
How many desktop screens can be added to display on GAC2500 LCD?
GAC2500 can have up to 16 desktop screens displayed on the LCD.
How to avoid disturbance from other calls during conference using GAC2500?
Users can slide the top status bar down and click DND in the menu to enable DND mode. Please be aware that GAC2500 will remain in DND mode even after the conference ends. Another way is to tap on the lock softkey on the conference screen. When the conference is locked, participants not invited cannot access the ongoing conference.
How to change the home screen on GAC2500?
Please swipe left and right to a blank layout on LCD. Press and hold the LCD, then choose "Edit Desktop". Choose a screen and tap on the home icon in the middle of the screen.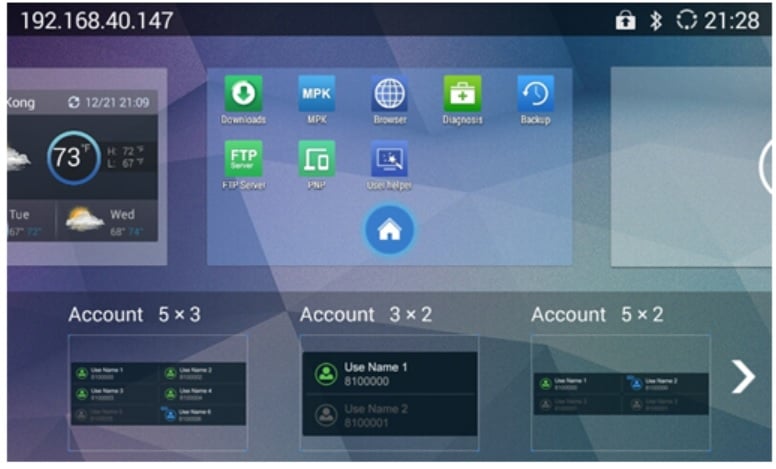 How to configure and use a Bluejeans account on GAC2500?
1) Log in to GAC2500 web UI and go to Account->General Settings. In SIP server field, enter 199.48.152.155 as the SIP Server. The rest of the settings such as User ID, SIP Authentication ID, password and etc. are not required.
2) On the same Account -> Network Settings, select "SRV" for DNS Mode. Please note user needs to enable Expert Mode on the webUI before making advanced configurations.
3) On the same Account -> SIP Settings, select "TCP" for SIP Transport, and uncheck SIP Registration.
4) On LCD dial pad, choose the Bluejeans account and type in the conference number/password, press call button to join a Bluejeans conference.
How to take a screenshot on GAC2500 LCD?
On GAC2500 LCD, slide down from the top status bar to bring up the top menu. Hold and press "Application Manager" to access screenshot function. The screenshot will be saved under the Internal Storage -> Pictures -> Screenshots.
To download the screenshot pictures, users can start FTP server in GAC2500 FTP app and login the server to download the pictures. Or users can use an OTG data cable to connect a USB flash drive to GAC2500 to transfer the pictures.
What is the function for the 2 cable interfaces on the right side of GAC2500?
The blue interface is used for Ethernet cable, and it supports PoE. The grey one supports grey cascade cable in the box, which is used for extending with another GAC2500.
What Bluetooth devices can be connected to GAC2500?
GAC2500 can be connected to GVC320x video conference system, Bluetooth headset and mobile phones that support Bluetooth.
What device can be connected and used for the 3.5mm interface on the GAC2500?
Device with 3.5mm combo audio/mic jack such as PC, cellphone or tablet can be used with GAC2500 via the 3.5mm cable. The cable should comply with TRRS standard such as OMTP or CTIA/AHJ.
What device can be used for the Micro-USB interface on the GAC2500?
Users can connect USB storage device to the GAC2500 with OTG data cable. Also, it can be used to connect to PC or GVC320x Video Conference system.
What is the audio pickup range for GAC2500?
It is recommended that a single GAC2500 is used in a 160 ft2 room, or it can be used in a 320 ft2 room if the GAC2500 has "Large Room" voice mode enabled. If 2 GAC2500 are cascaded, they can be used in a 550 ft2 room. The voice mode setting can be found on GAC2500 web UI -> Advanced -> Call Features -> Voice Mode. Please refer to the range pickup example below.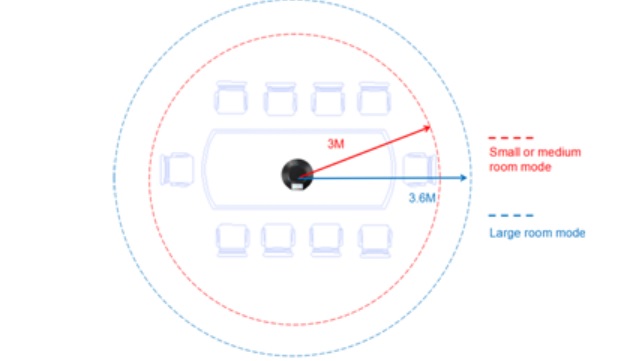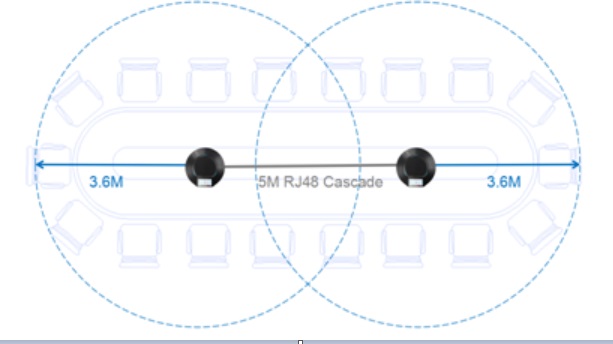 When GAC2500 is connected to a PC playing music, why is there no sound from the GAC2500?
Please open the sound control settings from PC and choose GAC2500 as the default speaker. For example, on Windows PC, users can:
1. Right click Sound icon, and check "Sound".
2. Choose "Playback". Right click on GAC2500 speaker and choose "Set as Default Devices".
3. After configuring, the GAC2500 should be able to play sound.
When GAC2500 is connected to a PC via USB cable, can the user access the files in GAC2500 from the PC?
No. When connected to a PC, GAC2500 act as an audio device only.
After logging in the GAC2500 web UI as admin, I cannot find some of the settings. Why?
On GAC2500 web UI, admin should enable Expert Mode on the upper right of the web UI to see all the settings.
My cellphone cannot discover GAC2500 as Bluetooth device when GAC2500 has Bluetooth enabled. Why?
Please check Bluetooth settings on GAC2500 LCD. If it shows "Only visible to paired devices", click on it to change the setting to "Visible to all nearby Bluetooth devices".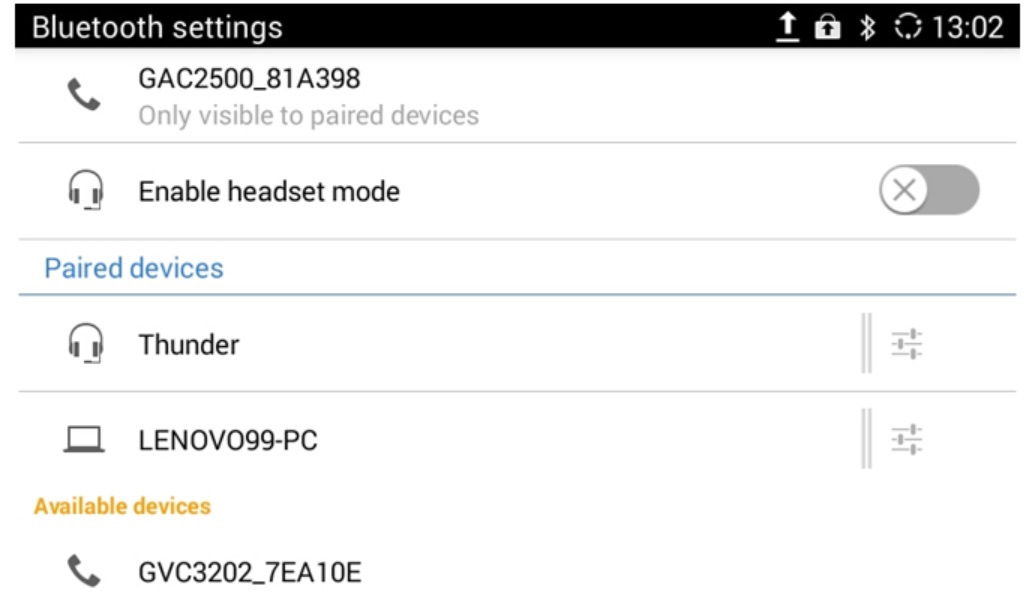 When my cellphone or PC is connected to GAC2500 via the 3.5mm port, the remote party cannot hear me. Why?
It is possible that the 3.5mm cable does not support microphone for audio input. Please make sure the cable is using OMTP or CTIA/AHJ TRRS standard.
My GAC2500 is not working when connected to GVC320x via USB cable? Why?
Please make sure the GVC320x firmware version is equal to or higher than 1.0.1.30.
I can hear electric current noise when a 3.5mm cable is plugged in the GAC2500? Why?
The noise may be generated due to the quality issue of the 3.5mm cable. Please use a high-quality cable instead.