Amrita University is a multi-disciplinary, research-intensive, private university, educating a vibrant student population of over 24,000 and a faculty of around 1700. Amrita is accredited with the highest possible 'A++' grade by the National Assessment and Accreditation Council (NAAC) and offers more than 250 Undergraduate, Postgraduate, and PhD
Programs in Engineering, Management, and Medical Sciences including Ayurveda, Life Sciences, Physical Sciences, Agriculture Sciences, Arts & Humanities, and Social & Behavioral Sciences. In this case study, we will be focusing on the solutions deployed at the Amritapuri Campus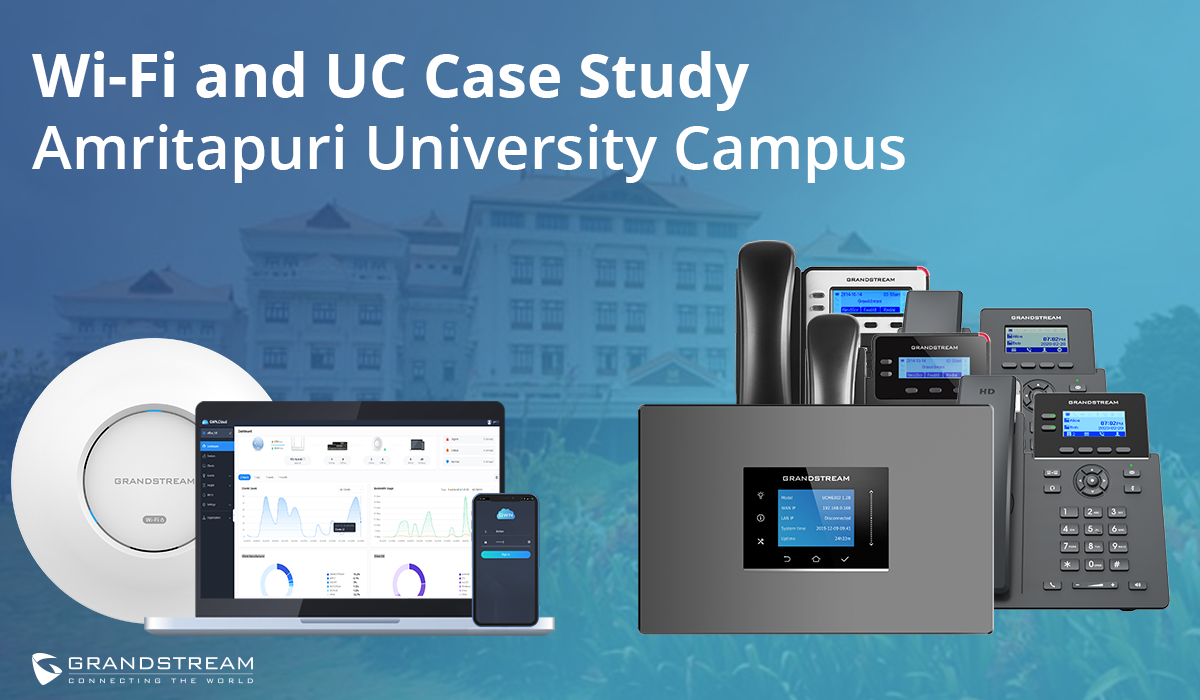 The Need
Considering the large size of the Amritapuri campus, a Wi-Fi connection was needed to be deployed throughout dorm rooms, staff rooms, classrooms, outer areas, and more. There was also a need to implement 802.1X radius-based authentication for all faculties, students, researchers, etc. with dynamic support. This allowed for any user to be authenticated by the centralized authority to add that extra layer of security to the connectivity on campus. The network administration team was also in search of a Wi-Fi 6 technology-based solution to replace the previous outdated Wi-Fi deployment and found Grandstream's Wi-Fi 6 GWN access points to fulfill all their solution requirements.
In addition to the networking solutions, Amritapuri Campus needed to provide a VoIP solution for all the facilities and staff members, which included a central IP PBX, desktop phones, and intercom devices, as well as a softphone option that faculty could have on their smart devices. Before installing Grandstream Solutions across their facilities, Amritapuri Campus was using an outdated analog setup that caused staff members to consistently experience outages, lack of features, and troubleshooting issues.
Solution Provided by Neotronics International

Neotronics International is a leading Agency House in the field of PC Board Assembly Line, Semiconductor Packaging, Thick Film, and Alternative-Non-Conventional Energy. Neotronics' close involvement in these fields goes right back to the very beginning of these technologies. Neotronics International has a Centralized Service Center in Mumbai and Local Service Centers in Bangalore, Chennai, and New Delhi.
Why Grandstream
The network administration team at Amrita Vishwa Vidyapeetham has had a consistent relationship with the Grandstream team for over a decade. The network team at Amrita is always monitoring the latest Grandstream products and utilizes comparison charts to compare Grandstream's solutions against competitor options. The key factors for choosing Grandstream were that their solutions provide high-end features and capabilities at an economical price, GWN networking devices have a 3-year warranty, and Grandstream's networking and unified communication devices can be highly customized and tailored to their deployments, enabling Amritapuri Campus to create the exact solution they needed. Lastly, due to troubleshooting issues with their previous solution, Amritapuri Campus chose Grandstream due to their firmware and hardware stability, along with the management and troubleshooting capabilities from the free GWN management platform.
The Solution

After a lot of research and careful consideration of multiple brands, the network administration team at Amritapuri Campus decided to implement Grandstream's solutions as it fulfilled their deployment needs and provided a complete communications and wireless package. With Granstream's Wi-Fi and UC products, the university could ensure that there is coverage throughout the campus and also upgrade its outdated analog telephone network with VoIP devices.
Networking Solutions
GWN7664: The GWN7664 was installed all over the Amritapuri Campus as this powerful indoor Wi-Fi 6 Access Point is ideal for multiple-floor buildings and commercial locations. A total of 65 GWN7664 products were deployed to provide the latest Wi-Fi 6 technology with OFMDA/MU-MIMO and ensure coverage throughout the 1200-acre campus.
Cost Effective: The GWN7664 is one of the most cost-effective Wi-Fi 6 solutions on the market and offers competitive high-end features, bandwidth speed, and a high client limit per AP that the network administration team required.
Wi-Fi 6 Technology: The University required Wi-Fi 6 technology to replace their outdated access points, and the GWN7664 fits the criteria perfectly. Wi-Fi 6 has better security and higher speeds when congested, which is crucial at a university campus where sensitive information is shared and the campus Wi-Fi network can become heavily congested.
Coverage Range: The Amritapuri Campus is spread across a large area of 1200 acres and the network administration team wanted to ensure that there is coverage available no matter the location on the grounds. The GWN7664 has a 175m coverage range and can support 750+ clients at any given point in time, which ensures that client devices receive adequate coverage no matter where they are.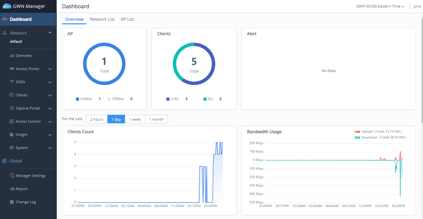 GWN Manager:
GWN7664 is managed using the GWN Manager, Grandstream's free-of-cost Wi-Fi cloud management platform. This centralized network management platform allows the network administration team at Amrita to easily manage all the access points with no additional cost and minimal technical support. GWN Manager provides streamlined monitoring and maintenance which makes managing your network as easy as possible. In addition to that, the administrator can keep an eye on the network's performance with real-time monitoring, alerts, statistics, and reports that can be viewed using a web browser or a mobile application.
Unified Communications Solutions
UCM6302: The team at Amrita decided to use the UCM6302 as their IP PBX server which served as a replacement for the outdated Sangoma Freepbx server. The UCM6302 IP PBX is a part of Grandstream's UCM6300 Series of IP PBXs that offers a centralized network for businesses or institutions of any size to utilize voice, video calling, video conferencing, video surveillance, facility access, and much more.
GRP2601P and GRP2602P: As a part of the remodeled VoIP setup done by the administration team, 55 GRP2601P phones were installed around the campus which replaced the traditional analog system. In addition to the GRP2601P, a total of 5 GRP2602Ps were deployed in different parts of the campus. Part of the GRP series of Carrier-Grade IP Phones, the GRP2601P, and GRP2602P are essential 2-line models designed with zero-touch provisioning for mass deployment and easy management. The phones feature a sleek design and a suite of next-generation features including 5-way voice conferencing to maximize productivity and integrated PoE. The GRP2601P and GRP2602P are supported by the Grandstream Device Management System (GDMS), which provides a centralized interface to configure, manage, provision, and monitor the deployment of Grandstream End Points. Both the GRP2601P and GRP2602P offer an easy-to-use and easy-to-deploy voice endpoint.
GXP1628 and GXP1625: The GXP1628 and GXP1625 are simple and reliable IP phones that deliver a suite of powerful VoIP features in an easy-to-use fashion and modern design. Both the IP phones also feature built-in PoE thereby giving it a network connection. The administration team at Amrita installed 5 GXP1628s and 5 GXP1625s on the campus as a part of the revamped VoIP setup.
Competitors Considered

The Network Administration team at Amritapuri Campus considered Aruba and Ruckus along with Grandstream's Solutions. The team ultimately decided to move forward with Grandstream's solutions, as the entire portfolio of devices offered the best economic value without compromising on any key features. Additionally, the Grandstream solution offered a free-of-cost network management platform, GWN Manager, which did not require any additional licensing, unlike Aruba and Ruckus. Another factor was Aruba and Ruckus do not have unified communication like Grandstream does and the University needed VoIP solutions installed as well.
The Result
By deploying Grandstream's GWN7664, the Network Administration team was able to create smart classrooms with a dedicated access point in all the rooms, which was one of the primary goals of the networking deployment. They are also able to manage all the access points using GWN Manager without any additional licensing fees, unlike competitors which were initially considered. Multiple SSID profiles can be pushed to individual or bulk access points. Additionally, firmware updates can be done in a centralized manner, and access point enrollments are simple with all options included in the GUI.
Grandstream's UCM IP PBX guarantees a stable VoIP environment with a High Availability redundancy solution and all the server-side configurations require less effort for deployment. This helped the administration team to build a stable Grandstream environment throughout the campus.
Overall, the network administration team at Amrita is very happy with Grandstream's networking and unified communications solutions and hopes to extend the smart classroom setup with Grandstream devices to their other locations over the coming years.