The new GAC2570 provides a powerful audio conferencing solution thanks to a 10-watt speaker, built-in Wi-Fi, Bluetooth, a rechargeable battery, 7-inch touch screen, and more
Boston, MA, USA - December 8, 2022 – Grandstream, connecting the world with award-winning unified communications and networking solutions, today released a new audio conferencing device. The new GAC2570 Enterprise Conference Phone is a full-duplex HD conferencing device that provides high-quality voice communication for conference rooms, huddle rooms, boardrooms and other meeting spaces. This Android-based device features an exceptional 10-watt speaker and 12 omnidirectional microphones with Multichannel Microphone Array Design (MMAD) to deliver an immersive experience to local and remote participants. By adding next-generation features including integrated dual-band Wi-Fi, Bluetooth, a 7-inch touch screen and more, the GAC2570 is the ideal audio conferencing solution for businesses and enterprises.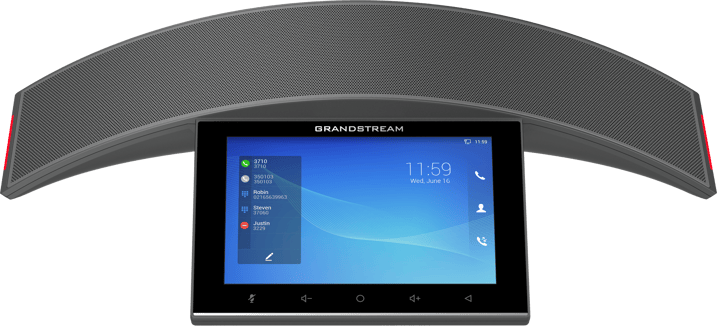 The GAC2570 features a 7-inch 1280x800 touch screen to provide seamless and intuitive operation. The device runs on Android 10 and offers full access to the millions of apps in the Google Play Store, while also allowing for custom Android apps to be developed for the GAC2570 to provide endless deployment solutions. This Enterprise Conference Phone provides built-in support for up to 12-way audio conferencing. It offers a 5-meter voice pickup range and can be paired with up to two GMD1208 Desktop Wireless Mics up to 20-meters away to provide full room coverage.
The GAC2570 is fully certified by Zoom. It provides a seamless, high-quality audio conferencing solution for all Zoom Room deployments and expansions.
Thanks to dual-band Wi-Fi 6 support, built-in Bluetooth and a rechargeable battery, the GAC2570 can be used wirelessly to allow teams to meet from anywhere that a Wi-Fi connection is available, ideal for busy environments, open offices and remote workers. Notable features of the GAC2570 include:
Full-duplex 10-watt speakerphone with HD acoustic chamber, advanced acoustic echo cancellation, and microphone beamforming array
12 omnidirectional microphones with MMAD (Multichannel Microphone Array Design)
Supports 5m pickup range; can also be paired with two GMD1208 desktop wireless microphones up to 20m away for full-room coverage
One 10/100/1000Mbps network port with PoE+ and dedicated media port for collaboration
Integrated Bluetooth 5.0 support
Integrated Wi-Fi 6, Dual-band 2.4 & 5GHz with 802.11 a/b/g/n/ac/ax
Built-in support for 12-way audio conferences
Built-in rechargeable 3300mAh battery to allow up to 4 hour talk time
Zoom Rooms Certified
Product Resources
Click here to visit the GAC2570 product page, which includes datasheets, technical resources and more.

Availability
The GAC2570 is available now for purchase through Grandstream's worldwide distribution channels.
About Grandstream
Grandstream Networks, Inc. has been connecting the world since 2002 with unified communications and networking solutions that allow businesses to be more productive than ever before. Our award-winning solutions serve the small-to-medium business and enterprises markets and have been recognized throughout the world for their quality, reliability, and innovation. Grandstream solutions lower communication costs, increase security protection and enhance productivity. Connect with us on Facebook, LinkedIn and Twitter.

Grandstream Contact
Phil Bowers
marketing@grandstream.com