The new GWN7806 and GWN7806P are High-Performance Layer 2+ Managed Network Switches that allow businesses to build powerful, secure, and easy-to-manage networks
Boston, MA, USA - August 16, 2023 – Grandstream, connecting the world with award-winning unified communications and networking solutions, today released two new 48-port Layer 2+ network switches. The new GWN7806 and GWN7806P are high-performance layer 2+ managed network switches with 48 ports that allow enterprises and medium-to-large businesses to build scalable, secure, and smart business networks that are fully manageable. By providing powerful security protection, comprehensive network control, enhanced reliability, and multiple flexible management options, the GWN7806 and GWN7806P are ideal for high-performance business deployments.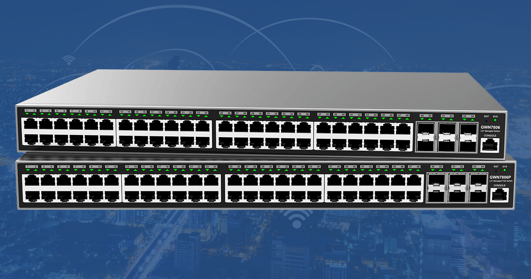 The GWN7806 and GWN7806P join the GWN7800 Series of Layer 2+ Managed Network Switches. This series now includes 8 model options, including 4 models that provide smart dynamic PoE ouput, while offering 8, 16, 24, or 48 Gigabit ports and 2, 4 or 6 Gigabit SFP ports. The GWN7800 Series supports advanced VLAN for flexible and sophisticated traffic segmentation, advanced QoS for prioritization of network traffic, IGMP Snooping for network performance optimization, and comprehensive security capabilities against potential attacks. The PoE models, including the GWN7806P, provide smart dynamic PoE output to power IP phones, IP cameras, Wi-Fi access points and other PoE endpoints.
The GWN7806 and GWN7806 provide a portfolio of enhanced features that allow them to provide maximum reliability, making them ideal for high-performance deployments.
Enhanced Reliability Suite - f

ault detection, device protection, dual boot-up, dual system file redundancy, link aggregation, storm control, and more

Green Energy Efficiency -

Intelligent control of the integrated fan adjusts fan speeds based on environmental temperatures and provides precise temperature control and energy savings

Support for up to 216Gbps switching capacity

Stackable (available soon) -

Easily manage up to 16 switches in one interface while creating redundant backup between devices
Other Notable features of the GWN7806 and GWN7806P include:
48 Gigabit ethernet ports and 6 Gigabit SFP ports

48 PoE ports with up to 30W per port and s

mart power control to support dynamic PoE/PoE+ power allocations per port (GWN7806P)

Supports IPv6 and IPv4 deployments

Security features include ARP inspection, IP Source Guard, DoS protections, port security, DHCP snooping and more
Offers multiple comprehensive and free management options: the local web user interface, Command Line Interface (CLI), GWN.Cloud - Grandstream's cloud network management platform, and GWN Manager - Grandstream's free on-premise software-based network management tool
Built-in QoS allows for prioritization of network traffic
Compatible with all brands and devices
Product Resources
Click here to visit the GWN7806/GWN7806P Series product page, which includes datasheets, technical resources and more.

Availability
The GWN7806 and GWN7806P are available now for purchase through Grandstream's worldwide distribution channels.
About Grandstream
Grandstream Networks, Inc. has been connecting the world since 2002 with unified communications and networking solutions that allow businesses to be more productive than ever before. Our award-winning solutions serve the small-to-medium business and enterprises markets and have been recognized throughout the world for their quality, reliability, and innovation. Grandstream solutions lower communication costs, increase security protection and enhance productivity. Connect with us on Facebook, LinkedIn and Twitter.

Grandstream Contact
Phil Bowers
marketing@grandstream.com