Boston, MA, USA - August 1, 2023 – Grandstream, connecting the world with award-winning unified communications and networking solutions, today released four new unmanaged network switches. The new GWN7702, GWN7702P, GWN7703, and GWN7706 are unmanaged network switches that provide a quick and cost-effective way to add high-speed Gigabit connectivity to home offices and small/medium businesses. They provide 16, 24 or 48 Gigabit ports, require no configuration or installation, feature a desktop and rack-mountable design, and provides auto MDI/MDIX to eliminate the need for crossover cables.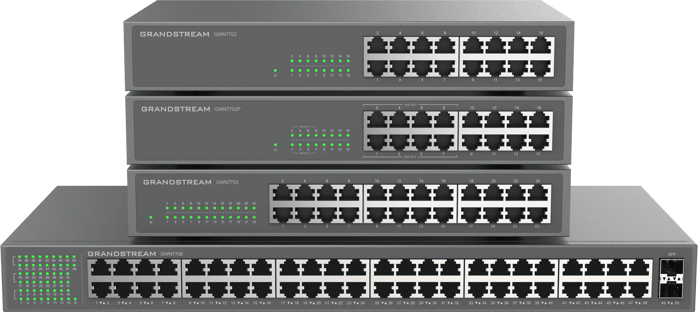 The GWN7702 provides 16 Gigabit ports, the GWN7702P provides 16 Gigabit ports with 8 of them offering PoE output, the GWN7703 includes 24 Gigabit ports, and the GWN7706 features 48 Gigabit ports. These new unmanaged network switches join the GWN7700 Series, which now includes 11 models. This series offers models with 5, 8, 16, 24 and 48 Gigabit ports, 4 or 8 PoE ports on supporting models, and multi-Gigabit options. Each port on all GWN7700 Series models supports auto-negotiation to allow them to recognize the link speed of any 10/100/1000Mbps network device (100/1000/2500Mbps on the GWN7700M and GWN7701M) and intelligently adjust for compatibility and optimal performance. The PoE models provide smart dynamic PoE output to power IP phones, IP cameras, Wi-Fi access points and other PoE endpoints.
Additional features of the GWN7700 Series include:
5, 8, 16, 24 and 48 Gigabit RJ45 ports, 4 port PoE+ output (GWN7700P, GWN7701P), and 8 port PoE+ output (GWN7701PA, GWN7702P)
Green technology reduces power consumption
LED Indicators; Per port: Link/Activity/Speed Per device: Power
Auto MDI/MDIX crossover for all ports
802.3 af/at compliant Up to 30W on each port, (GWN7700P, GWN7701P, GWN7701PA, and GWN7702P only)
Broadcast/Multicast/Unicast Storm Control (fixed to 100Mbps) to monitor traffic levels
Unlink clear FDB Feature (GWN7701/GWN7701P/GWN7701PA/GWN7702/GWN7702P/GWN7703/GWN7706 only)
Compatible with all brands and devices
Product Resources
Click here to visit the GWN7700 Series product page, which includes datasheets, technical resources and more.

Availability
All GWN7700 Series models, including the new GWN7702, GWN7702P, GWN7703, and GWN7706, are generally available now for purchase through Grandstream's worldwide distribution channels.
About Grandstream
Grandstream Networks, Inc. has been connecting the world since 2002 with unified communications and networking solutions that allow businesses to be more productive than ever before. Our award-winning solutions serve the small-to-medium business and enterprises markets and have been recognized throughout the world for their quality, reliability, and innovation. Grandstream solutions lower communication costs, increase security protection and enhance productivity. Connect with us on Facebook, LinkedIn and Twitter.

Grandstream Contact
Phil Bowers
marketing@grandstream.com