The GSC3506 provides the ideal intercom speaker for offices, schools, hospitals, apartments and more
Boston, MA, USA - January 26, 2023 – Grandstream, connecting the world with award-winning unified communications and networking solutions, today announced a new intercom speaker. The new GSC3506 is a SIP multicast intercom speaker that provides 1-way public address speaker with a 30-watt HD speaker. Thanks to its' modern design, cleanable exterior surface and robust speaker, the GSC3506 allows offices, schools, hospitals, apartments and similar environments to build powerful public address announcement solutions that expand security and communications.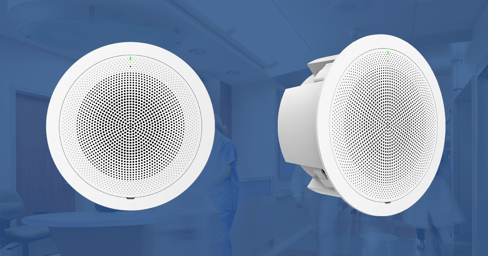 The GSC3506 offers crystal clear HD audio functionality with a high-fidelity 30-Watt HD speaker. It supports SIP and multicast paging, group paging and push-to-talk (PTT) while adding security through built-in whitelists, blacklists and greylists to easily block unwanted calls. By pairing the GSC3506 with other Grandstream devices, including desktop and cordless IP phones as well as the GDS series of Facility Access products, users can easily sculpt a state-of-the-art security and public address solution. Additional features of the GSC35o6 include:
Full-duplex speaker with HD acoustic chamber
30-watt high-fidelity HD speaker
Supports SIP paging, multicast paging and call-waiting with priority override

Full-band and wide-band audio codec support including Opus and G.722

One 10/100Mbps network port with PoE/PoE+

1x 2-pin multi-purpose input and 1x alarm-in input to support peripherals including call buttons, motion sensors, alarms, sirens and more
Product Resources
Click here to visit the GSC3506 product page, which includes datasheets, technical resources and more.

Pricing and Availability
The GSC3506 is generally available now for purchase through Grandstream's worldwide distribution channels.
About Grandstream
Grandstream Networks, Inc. has been connecting the world since 2002 with unified communications and networking solutions that allow businesses to be more productive than ever before. Our award-winning solutions serve the small-to-medium business and enterprises markets and have been recognized throughout the world for their quality, reliability, and innovation. Grandstream solutions lower communication costs, increase security protection and enhance productivity. Connect with us on Facebook, LinkedIn and Twitter.

Grandstream Contact
Phil Bowers
marketing@grandstream.com