The GWN7661 provides an In-Wall Wi-Fi 6 Access Point ideal for hotels, offices, homes, commercial facilities, and more
Boston, MA USA – June 30, 2023 – Grandstream, connecting the world since 2002 with award-winning unified communication and networking solutions, today announced the release of a new in-wall Wi-Fi 6 access point. The new GWN7661 is an 802.11ax Wi-Fi 6 access point that is designed to be mounted in-wall to provide a clean and professional installation that blends in to the surrounding environment. It provides three Gigabit network ports, including two with PSE, to provide IP phones, televisions, computers and similar nearby devices with ethernet while also including an uplink Gigabit network port with PoE/PoE+. With support for advanced QoS, mesh networks, captive portals, Wi-Fi speeds up to 1.77Gbps, and 500+ concurrent clients, the GWN7661 is an ideal Wi-Fi access point for hotels, residential deployments, commercial facilities, offices, and more.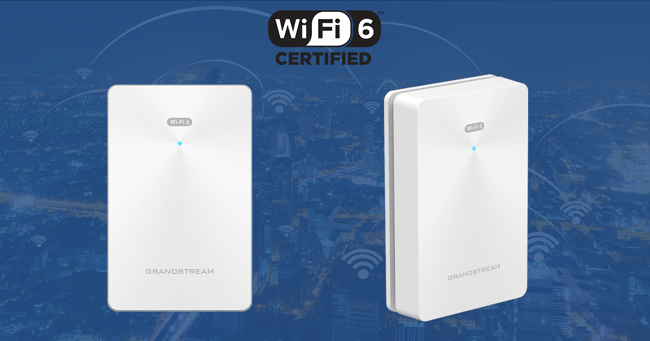 The GWN7661 provides 2x2:2 MU-MIMO technology and supports 500+ concurrent Wi-Fi clients. It can be managed through GWN.Cloud and GWN Manager, Grandstream's free cloud and on-premise network management platforms that and makes managing your network or several networks across multiple locations easier than ever before. It also uses a controller-less network management architecture in which the controller is embedded within the product's web user interface for easy administration of locally deployed Wi-Fi APs. The GWN7661 is the ideal Wi-Fi AP for voice-over-Wi-Fi deployments and offers a seamless connection with Grandstream's Wi-Fi capable IP phones. It is the latest addition to Grandstream's GWN Series of Networking Solutions, which provides a one-stop-shop for all Wi-Fi networking needs.
Notable features of this device include:
Supports 1.77 Gbps wireless throughput
Dual-band 2×2:2 MU-MIMO with DL/UL OFDMA technology
Supports 500+ concurrent Wi-Fi client devices
Network Interfaces: 1x Gigabit uplink Ethernet port with PoE/PoE+, 2x Gigabit Ethernet ports with PSE, 1x Gigabit Ethernet port
Advanced QoS to ensure real-time performance of low-latency applications
Anti-hacking secure boot and critical data/control lockdown via digital signatures, unique security certificate/random default password per device
Self power adaptation upon auto detection of PoE or PoE+
Embedded controller can manage up to 50 local GWN series APs; GWN.Cloud offers unlimited AP management; GWN Manager offers premise-based software controller
Product Resources
Click here to visit the GWN7661 product page, which includes datasheets, technical resources and more.
Availability
The GWN7661 is generally available now for purchase through Grandstream's worldwide distribution channels.
About Grandstream
Grandstream Networks, Inc. has been connecting the world since 2002 with SIP Unified Communications products and solutions that allow businesses to be more productive than ever before. Our award-winning solutions serve the small-to-medium business and enterprises markets and have been recognized throughout the world for their quality, reliability, and innovation. Grandstream solutions lower communication costs, increase security protection and enhance productivity. Connect with us on Facebook, LinkedIn and Twitter.

Grandstream Contact
Phil Bowers
marketing@grandstream.com