The GXV3470 provides an all-in-one desktop collaboration and productivity solution with an 7" touch screen, Android™ 11, integrated Wi-Fi, Bluetooth, and more
Boston, MA USA – October 25, 2022 – Grandstream, connecting the world since 2002 with award-winning unified communication and networking solutions, today announced the release of the GXV3470 High-End Smart Video IP Phone for Android™. The latest addition to Grandstream's award-winning GXV Series, the new GXV3470 provides an all-in-one desktop productivity solution by combining a multi-platform video collaboration device with a 16-line IP phone and the functionality of an Android tablet.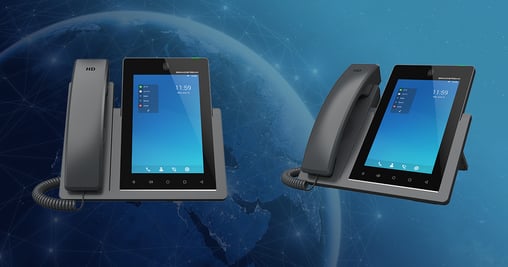 The GXV3470 delivers a powerful experience thanks to its 7-inch 800x1280 touch screen, built-in 2-megapixel camera, support for 1080p HD video, integrated dual-band Wi-Fi 6, built-in Bluetooth, HDMI input/output and more. The GXV3470 runs on Android 11 to offer full access to the millions of Android applications and supports custom app development. It can be seamlessly integrated with other Grandstream products, including Wi-Fi access points, routers, facility access solutions, IP PBXs, video conferencing devices and more.
The GXV3470 is the ideal desktop device for busy professionals, executives, sales teams and receptionists as it offers instant access to a variety of voice, video, multimedia and application communication solutions. It also offers a powerful yet cost-effective video device for any conference room. Additionally, the GXV3470 also provides a high-end hotel room phone while supporting custom Android apps that could allow guests to manage their stay from the phone. Notable features of the GXV3470 include:
Runs Android 11 and offers access to the millions of Android apps
7-inch (800x1280) capacitive touch screen
Built-in 2-megapixel camera for video calling with privacy shutter
Integrated dual-band Wi-Fi 6 (802.11 a/b/g/n/ac/ax)
Built-in Bluetooth support for syncing with mobile devices, Bluetooth headsets, etc.
Dual-mic HD speakerphone with Noise Shield 2.0, advanced echo cancellation and excellent double-talk performance for any scenario
Dual Gigabit ports with PoE/PoE+
16 lines with up to 16 SIP accounts
Built-in support for 10-way HD audio conferencing and 3-way 720p 30fps HD video conferencing
Quad-core 2.0GHz ARM Cortez A55 processor with 2GB RAM and 16GB eMMC Flash
Peripherals include HDMI output, USB 3.0, USB 2.0, RJ9 headset jack and 3.5mm stereo headset
Advanced SDK/API available for custom application deployment
Product Resources
Click here to visit the GXV3470 product page, which includes datasheets, technical resources and more.

Pricing and Availability
The GXV3470 is generally available now for purchase through Grandstream's worldwide distribution channels.
About Grandstream
Grandstream Networks, Inc. has been connecting the world since 2002 with unified communications and networking solutions that allow businesses to be more productive than ever before. Our award-winning solutions serve the small-to-medium business and enterprises markets and have been recognized throughout the world for their quality, reliability, and innovation. Grandstream solutions lower communication costs, increase security protection and enhance productivity. Connect with us on Facebook, LinkedIn and Twitter.

Grandstream Contact
Phil Bowers
marketing@grandstream.com
*Android is a Registered Trademark of Google LLC.