The GWN7052F provides the ideal dual-band Wi-Fi router for ISPs, residential users and small business networks with support for Mesh, VPN, powerful security features and more
Boston, MA, USA - February 23, 2023 – Grandstream, connecting the world with unified communications and networking solutions since 2002, today released a new Wi-Fi router. The GWN7052F is a dual-band Wi-Fi router that provides 2x2:2 MU-MIMO to support Mesh networking, wired AP connections, VPN, advanced QoS, powerful security features and more. It offers Wi-Fi speeds up to 1.27Gbps, supports up to 100 concurrent clients and includes 1 Gigabit SFP port along with 4 WAN/LAN configurable ports. By providing accelerated Wi-Fi speeds with strong security protection and advanced features, the GWN7052F is the ideal router for internet service providers (ISPs), residential users and small business networks.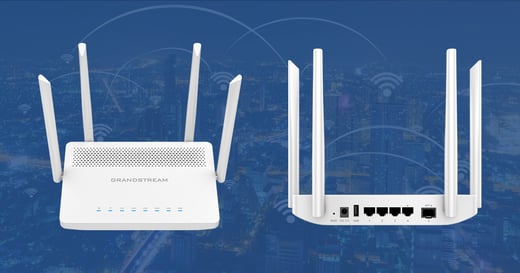 The GWN7052F is the latest addition to Grandstream's GWN Series of Networking Solutions. It is built to support bandwidth-demanding applications, including smart office and home automation, 4k Ultra HD video streaming, web meetings, video conferences, online gaming and more. The GWN7052F provides a new variation of the GWN7052 that includes a Gigabit SFP port, WAN/LAN configurable ports, and 256MB RAM.
Grandstream's GWN series Wi-Fi routers support VPN to allow remote employees to securely connect to the corporate network from home or branch offices. They provide enterprise-grade security features to ensure secure Wi-Fi and VPN access, including unique security certificates and random default passwords. To ensure easy installation and management, GWN series models include a built-in controller embedded within their web user interface. The GWN series can also be managed by GWN.Cloud and GWN Manager, Grandstream's free cloud and on-premise Wi-Fi management platforms.
Other GWN7052F features include:
Dual-band 2×2 MU-MIMO
Dual core 880MHz processor
Provides Wi-Fi speeds up to 1.27 Gbps to support up to 100 wireless devices
Up to 16 total SSIDs, 8 per radio
1x Gigabit SFP port and 4x Gigabit WAN/LAN configurable ports; 1x USB 2.0 port, 1x Reset pinhole
Embedded controller can manage itself and up to 50 Grandstream GWN Series APs
Supports Mesh networks with Grandstream access points to provide network expansion
Built-in VPN support
Provides 256MB RAM to support up to 60K NAT sessions
Product Resources
Click here to visit the GWN7052F product page, which include datasheets, technical resources and more.
Pricing and Availability
The GWN7052F is generally available now for purchase through Grandstream's worldwide distribution channels.
About Grandstream
Grandstream Networks, Inc. has been connecting the world since 2002 with unified communications and networking solutions that allow businesses to be more productive than ever before. Our award-winning solutions serve the small-to-medium business and enterprises markets and have been recognized throughout the world for their quality, reliability and innovation. Grandstream solutions lower communication costs, increase security protection and enhance productivity. Visit www.grandstream.com for more information or connect with us on Facebook, LinkedIn and Twitter.


Grandstream Contact
Phil Bowers
marketing@grandstream.com