Businesses can now pair Grandstream GWN Series of APs with Social WiFi's marketing suite to market to customers and gain valuable customer data
Boston, MA, USA and Warsaw, Poland – November 14th, 2022 – Social WiFi, a leading Wi-Fi marketing solution provider, and Grandstream, connecting the world since 2002 with award-winning unified communication and networking solutions, announced a new partnership today. Through this partnership, Grandstream's GWN series of Wi-Fi access points now fully support Social WiFi's suite of customer Wi-Fi marketing tools. This allows network managers to utilize Grandstream's Wi-Fi APs to gather customer data, collect online reviews, and send timely marketing messages using Social WiFi's software platform.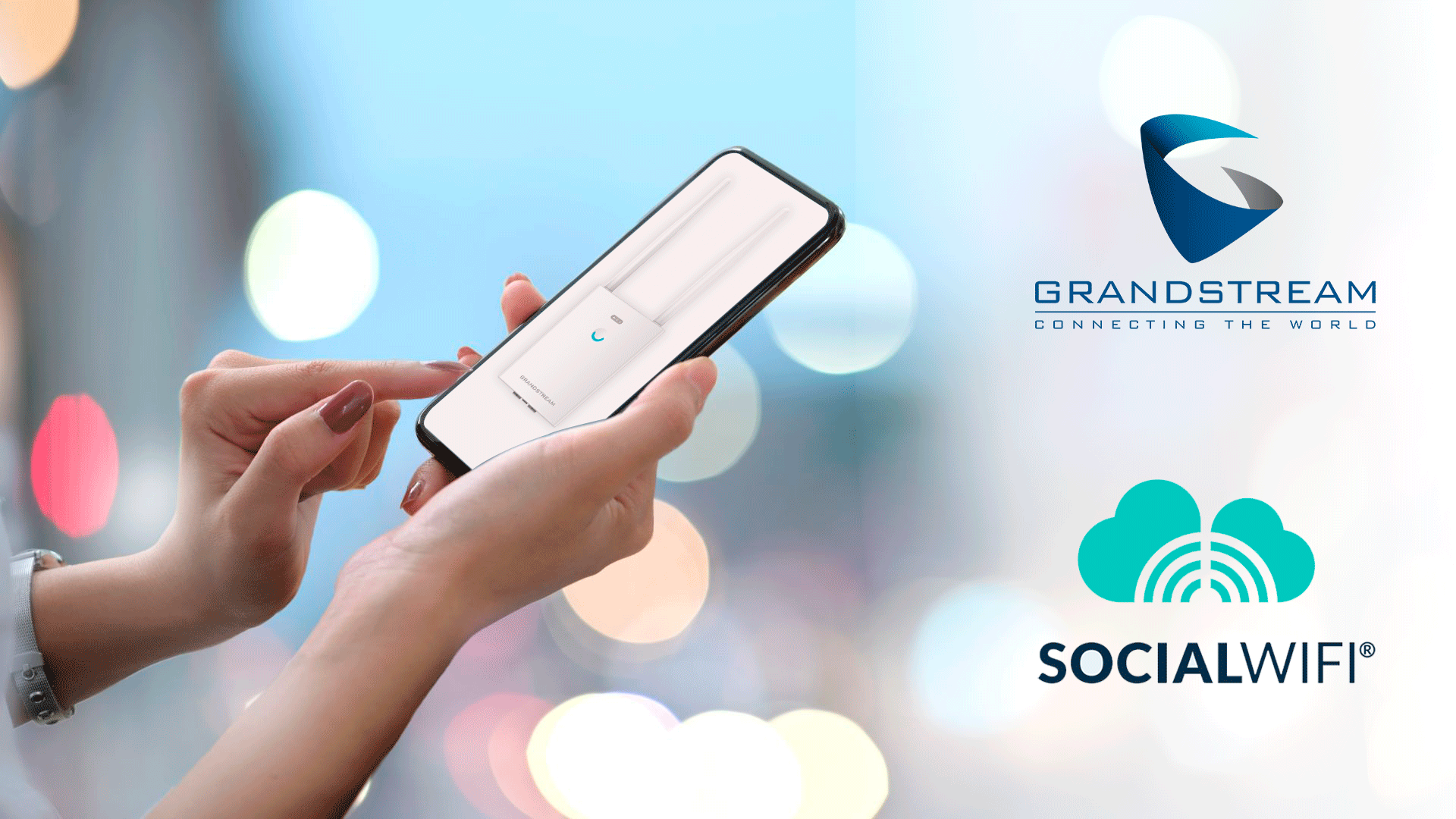 Built with cutting-edge technology, Grandstream's GWN Series of Wi-Fi Access Points offer high-performance networking for hundreds of clients simultaneously, tremendous Wi-Fi coverage range as well as fast and easy provisioning. Their solutions provide state-of-the-art features, including Wi-Fi 6 support, MU-MIMO, multi-antenna arrays, and beamforming technology, among others, to provide optimal performance for even the most demanding public and business networks. By pairing Grandstream's GWN Series Wi-Fi APs with the suite of customer Wi-Fi marketing tools from Social WiFi, businesses can gain valuable insight about their visitors and customers, remarket to them automatically after their visit, gather online reviews, and more. This combined solution allows businesses to track the ROI of Wi-Fi hardware and network infrastructure, something which was previously difficult to identify.
"This new partnership with Grandstream Networks is an exciting moment for us as we add another hardware vendor to our supported list," said Paul Webster, CEO of Social WiFi. "Grandstream is a brand that is growing in popularity with quality enterprise equipment, at competitive prices and solid availability. We're seeing more and more businesses ask us about Grandstream. Hardware is often a barrier to getting businesses started with our WiFi Marketing service, so by adding another enterprise brand, we hope to connect more businesses, more quickly."
"Along with the expansion of our GWN Series, we continue to focus on building strong partnerships with leaders in the Wi-Fi networking industry," said Jorge Otero, Sales Director, LATAM for Grandstream. "The integration of Social Wi-Fi's solutions with our GWN Series of APs will allow the creation of public and business Wi-Fi networks that provide added value for the network owner while maintaining security and achieving high performance. The ease of managing Wi-Fi networks with Grandstream's GWN Series APs combined with customer Wi-Fi marketing tools to ensure a high return on investment (ROI) while maintaining an excellent end-user experience."
Grandstream's GWN Series brings additional value to IT teams thanks to the ability to manage them centrally from Grandstream's free cloud management platform, GWN.Cloud. Thanks to streamlined deployment, monitoring, and maintenance tools, managing your network across multiple locations has never been easier than with GWN.Cloud. Secure networks can be deployed, managed, and monitored in real-time using the mobile app or the web browser interface. GWN.Cloud features complete scalability with no limits on the number of sites. It is designed to handle the requirements of large enterprises, making it a solid choice for SMBs as well.
About Social WiFi
For almost 10 years, Social WiFi has been helping brick-and-mortar businesses know who their customers are and giving them the tools to remarket to them and gain referrals, driving more revenue. Offline businesses lack a lot of the tools that online businesses possess, so Social WiFi bridges that gap by gathering customer data, automating remarking efforts, and gathering positive online reviews. With clients and partners in over 80 countries, Social WiFi is available across the globe and now directly on Grandstream WiFi Access Points. For more information visit
Social WiFi
Contact at Social WiFi:
About Grandstream
Grandstream Networks, Inc. has been connecting the world since 2002 with unified communications and networking solutions that allow businesses to be more productive than ever before. Our award-winning solutions serve the small-to-medium business and enterprise markets and have been recognized throughout the world for their quality, reliability, and innovation. Grandstream solutions lower communication costs, increase security protection, and enhance productivity. Connect with us on Facebook, LinkedIn, and Twitter.
Contact Grandstream:
David Alonso