Grandstream's Wi-Fi access point solution has evolved over the years. From our first Wi-Fi access point, the GWN7610, to our newer wide range of Wi-Fi 6 APs, our GWN devices are being utilized by clients worldwide and are helping businesses, schools, and governments provide powerful wireless networks to their users. If you are new to our GWN series, with over 14 Wi-Fi access points, three deployment configuration and management platforms, and other solutions to come, it can be a bit daunting to start learning. In this blog post, we'll take a step back from in-depth technical details and look at our GWN series as a whole, examining differentiators, key features, and providing you the introductory knowledge needed to begin working with our GWN access points.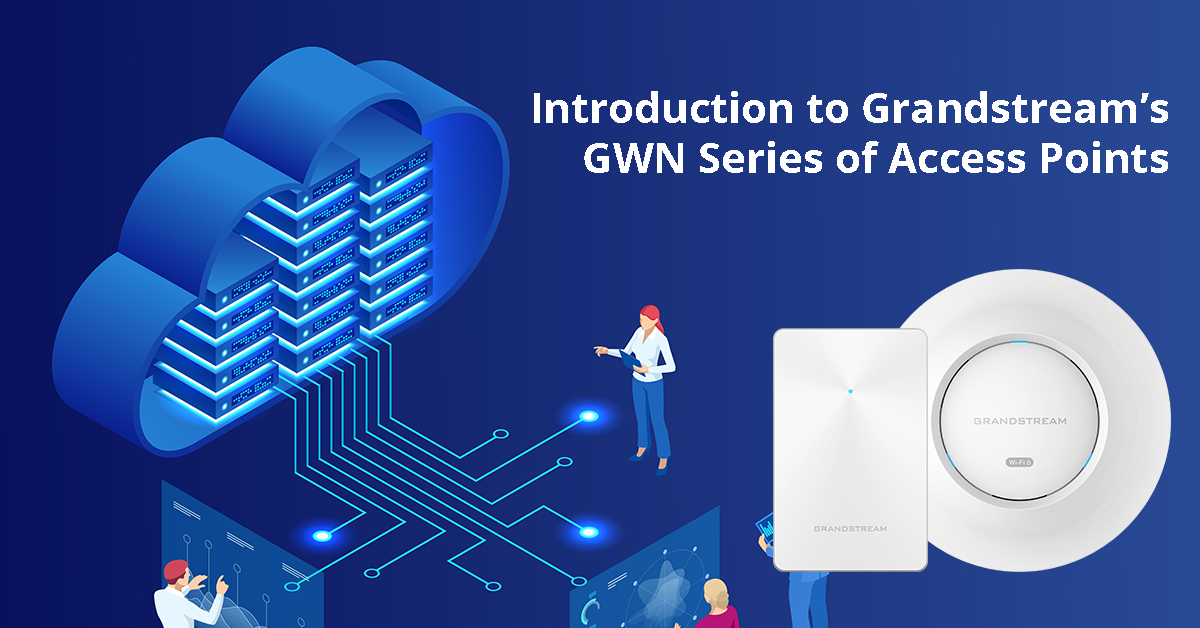 Benefits of the GWN Series
We believe that enterprise-grade Wi-Fi access points should be available to businesses both large and small, something we keep in mind when designing our GWN7600 Series of Wi-Fi Access Points. GWNs come with a variety of benefits when comparing them to other brands' APs, and all of our access points are designed to offer reliable, scalable, secure, and powerful Wi-Fi networks to any deployment while maintaining a lower price point compared to our competition. The GWN series capabilities vary per model, allowing you to choose the perfect access point depending on the deployment. Key features such as concurrent clients, aggregate wireless throughput, and coverage range are always prioritized to over-deliver for the price range of the model, ensuring a cost-effective solution for your client.
Another major benefit of the GWN series is the various options for managing a set of GWN devices. When deploying GWN access points, an installer can choose cloud management through GWN.Cloud, on-site software-based management with GWN Manager, or the GWN's own built-in controller. While on-site management through the access point's built-in controller is always an effective way to configure a deployment, GWN.Cloud's free web management platform provides installers with a more robust set of configuration options that are especially ideal if managing several deployments. Entire networks of GWN Wi-Fi access points can be conveniently organized into separate sites, with no limit on the amount of APs or sites. This enables installers to manage all their deployments entirely from one cloud platform.
Configuring from GWN.Cloud gives installers a wide variety of additional tools to streamline the process and make for easier deployments. Access points can be added to GWN.Cloud manually with the MAC address and customized Wi-Fi password, in a bulk import via a .CVS file (a reference template can be downloaded through this prompt on GWN.Cloud), by scanning a GWN's backplate sticker while using the GWN.Cloud application on a smart device, or by transferring all access points that are already configured to a local master access point whose built-in controller is being used. Once the access points have been added to their deployment site in GWN.Cloud and connected to the internet, an installer can configure, monitor, and troubleshoot all from one place. Lastly, network radio settings can be used to adjust access points across the entire deployment, and insight/report tools allow you to monitor networks and their access points for errors.
Head to GWN.Cloud to creating your free account and begin exploring the capabilities of this modern management platform.
GWN Series Differentiators
GWN series access points come with a variety of features that can vary depending on the model of the device. However, across the entire series, the biggest differentiators are Wi-Fi 6 vs Wi-Fi 5, concurrent clients, range, weatherproofing, and total throughput. When choosing a Grandstream access point for a client's network, consider the following questions to better select the right GWN model:
Do the access points need to be weatherproof and/or long-range?

If yes, our Long Range (LR) outdoor access points are a perfect place to begin

Will the clients utilizing the Wi-Fi connection require high bandwidth performance?

If yes, our Wi-Fi 6 access points and higher model-number access points provide wireless connection speeds of 2.0Gbps+

How many client devices will be trying to utilize a wireless connection within the physical deployment space?

In general, the more concurrent wireless clients will require our higher model access points that provide additional internal and/or antennas
Our higher model devices support the Wi-Fi 6 standard, which empowers an access point with the ability to handle simultaneous clients more efficiently

A few of our access points also provide additional capabilities for more unique deployment scenarios

The GWN7602 and GWN7624 have switching capabilities with additional PSE-capable ethernet ports
The GWN7625 is a hybrid access point that delivers a more affordable option for networks that will be primarily using the 5Ghz band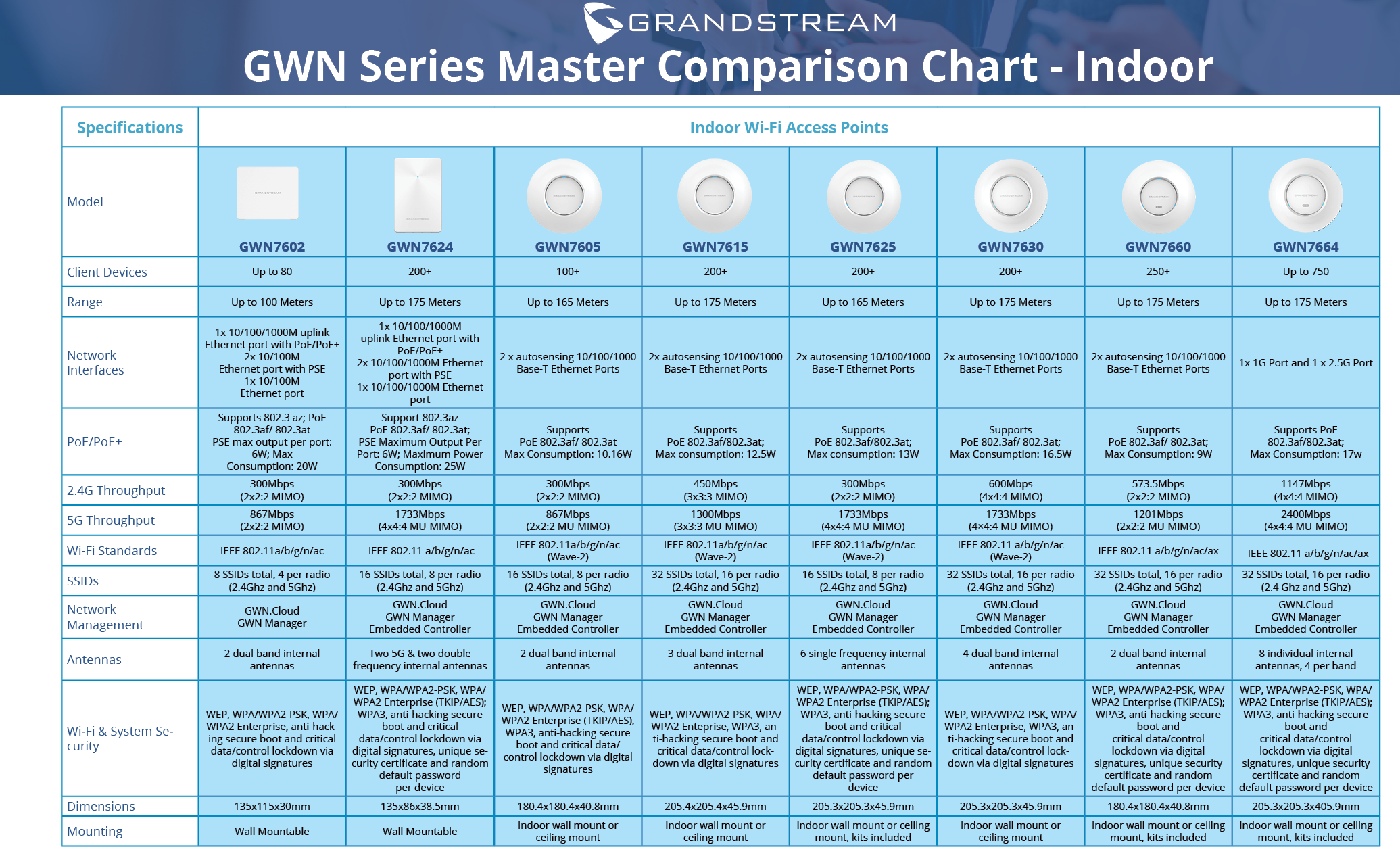 Click Here to Download Above Comparison Charts
Additional GWN Features
Other than the key technical capabilities mentioned above, Grandstream's GWN access points have a variety of additional features that are available across certain models of the GWN series or all of them. OFDMA and improved MU-MIMO on our Wi-Fi 6 access points, client/AP bandwidth and SSID customization, captive portal creation, and Grandstream Wi-Fi voice integration are vital features for a Wi-Fi solution that our access points fully support. Installers can leverage these additional features to further customize their client's network, furthering the competitive benefits of choosing Grandstream access points.
OFDMA and advanced MU-MIMO are two features that are unique to our Wi-Fi 6 access points. These two features elevate the way that GWN devices are able to communicate with client devices, by making this process quicker and more efficient. OFDMA, which is a technology unique to Wi-Fi 6, directly impacts uplink and downlink streams and controls how client devices are connected to the access point and the way the access point then prioritizes the device's bandwidth. Unlike early generations of Wi-Fi APs, OFDMA organizes bandwidth usage into resource units, which allows the access point to carry multiple services for different needs simultaneously to a client device. This is ideal for deployments with a wide variety of device types such as VoIP phones, laptops, IoT devices, etc. MU-MIMO was introduced with Wi-Fi 5, and saw major improvements with Wi-Fi 6. MU-MIMO enables devices to communicate with the access point simultaneously, improving the performance of each spatial stream and decreasing device latency slightly.
When it comes to client and bandwidth customization, GWN access points support a variety of settings to adjust the way these devices may access and use the network. Blacklists, whitelists, connection time limits, wireless client limits, and bandwidth rules are all features that can be leveraged to configure how clients interact with the access point's SSID/Wi-Fi network. SSID's can have their bandwidth limited as well, which enables the creation of separate SSIDs on the same networks for different uses, such as a public vs private network, or network purely for IoT devices. Using any of the GWN management options, captive portals can be customized to further deepen the methods users can gain access to a Wi-Fi network over a given SSID. To learn more about creating captive portals on a GWN Wi-Fi access point and the options provided, read our blog post here.
Grandstream's Wi-Fi Voice and Video Solutions
Grandstream's GWN7600 Series of Wi-Fi Access Points provide a competitive set of Wi-Fi infrastructure options for an installer. They are also designed to integrate with all of Grandstream's Wi-Fi-capable unified communications and conferencing devices. Installers can choose Grandstream for both the UC and Wi-Fi devices in a client's deployment. Wi-Fi Voice extends access to SIP or VoIP networks through Wi-Fi, rather than through hard-wired connections. There are no special service plans needed as Wi-Fi voice networks utilize the same backend SIP services as any wired VoIP network, but with the connections being extended to endpoints wirelessly through a Wi-Fi network. Since the majority of SIP networks can also support video, Wi-Fi voice network deployments also seamlessly support video.
We created a guide that fully outlines the benefits, deployment capabilities, and technical advantages of Grandstream's Wi-Fi communications solutions. Click here to access and download a PDF copy.
Ready to continue learning about Grandstream Wi-Fi access points? Click below to visit our product page and begin exploring the technical documents provided on each access point's product page, or connect directly to sales to join the thousands of installers who have chosen Grandstream for their client's Wi-Fi networks.